IELTS is a popular English proficiency test acknowledged by the top universities in the world. According to The New York Times report, there are more than 3 million tests taken in the past year. IELTS scores are accepted by more than 1000+ universities and colleges across 140 countries around the world. It has 4 sections – reading, writing, speaking, and listening skills. IELTS speaking section is considered to be the easiest of them all. This blog brings you a comprehensive guide to score well in the IELTS speaking section.

Register for Leverage Live – Make Your Home a New Classroom
IELTS Speaking Test Information
The IELTS speaking test's key details are shown below.
1. The speaking examination is conducted face-to-face in a room with an examiner.
2. Each applicant will take just one speaking test. The speaking exam is the same for academic and GT applicants.
3. The face-to-face interview with the examiner will still take place even if you are taking the IELTS on a computer. Everybody takes the same speaking exam.
4. It is recorded so that you can request a comment at a later time.
5. This is a casual speaking assessment.
6. At the end of the examination, the examiner who asked the questions will determine your scores.
7. The examination lasts 11 to 14 minutes (not more and not less).
8. The examiner controls the time and length of your answers.
9. The test comprises of:

§ ID check and Greeting
§ Part 1 = questions & answers 4 to 5 mins
§ Part 2 = a talk for 1-2 mins with rounding off questions for 1 min.
§ Part 3 = discussion 4 to 5 mins

10. There are four marking criteria:

0. Fluency & Cohesion (25%)
1. Vocabulary (25%)
2. Grammar (25%)
3. Pronunciation (25%)
Types of Questions and Marking Schemes
The very first thing you must know about the IELTS speaking section is that it is not to check your smartness but your ability to communicate. As an international student, you will be living in a completely different society and culture, in that case, communicating your thoughts effectively will help you blend in. Apart from that, speaking ability is a must to engage in classroom activities. IELTS speaking section tests your vocal ability to pronounce, analyze error-free English and fluency. It is 11-15 minutes long and a certified examiner evaluates your performance on 4 parameters familiarity & intelligibility, lexical asset, linguistic range & fluency, and elocution. Let us have a look at the 3 divisions of the
Part 1
In the first part of the IELTS speaking section, you are expected to tell the examiner about your hobbies, family, interests, and personal life. This part is 4-5 minutes long in duration. Examiner might ask you additional questions just to check your response time.
Part 2
In this part, the examiner will give you a card with a topic. You will get 1-2 minutes to think over it and then speak about the same at length.
Part 3
This part of the IELTS speaking section is an extension of the previous task. You will be questioned on your viewpoints from part 2. This is done to understand if you are able to communicate your thoughts well enough or not.
Also Read: IELTS Speaking Topics
How to manage your IELTS Speaking section
Purpose of the IELTS Speaking Test
The IELTS Speaking test is intended to measure a variety of abilities. Because it is a proficiency exam, it will assess the candidate's ability to answer questions. The themes and questions for speaking are designed to encourage the applicant to talk freely. The questions and themes are not designed to assess your intelligence. Candidates are frequently confronted with subjects about which they have no context to talk, or topics that are meaningless and foolish. Nonetheless, the examiner will be able to judge your language skills through these subjects. He'll notice how easily and confidently you can talk about anything.
What Skills are Assessed?
The following skills and parameters are assessed during the IELTS Speaking Test:
Your verbal fluency and coherence (your speaking speed and ability to make sense).
Your lexical assets and resources (how wide is your vocabulary range).
Your grammar and syntax (your ability to use a range of tenses and sentence structures accurately and clearly).
Your pronunciation (how correct is your English accent).
Common Mistakes of IELTS Speaking Section
You must aim to avoid any sort of mistakes in the speaking section. This can be done by practicing more and more. Below listed are some common mistakes that students usually make while attempting the IELTS test-
Silence
Being quiet shows that you lack responsiveness which can leave an impression that you are either not confident or not proficient with the language. It's fine to waver for a couple of moments before talking or between thoughts, however, the silence of longer than five seconds will go down your way.
Over Use of Transition Signals
It's useful to utilize a couple of signposting words once or twice. However, if you over-burden your speech with these you could harm your score. Sounding nature real, not like a signposting robot, should be your objective in IELTS Speaking.
Addressing an Inappropriate Question
You will lose marks for lucidness if your answer neglects to address the inquiry. Ask yourself before you start talking if you are sure that you have understood the topic well.
Tips to Improve IELTS Speaking Section
To score maximum in the IELTS speaking section, you must master your speaking skills and pronunciation. Below are some crucial tips to improve your speaking skills to enhance your IELTS result.
Pay attention to fluency
Make use of technology
Take some time to think before you respond
Improve your coherence
Avoid giving short answers
Use emotions in your speech
Ask questions
Learn to answer basic questions
Make no grammatical errors
Use your vocabulary
Use the right pronunciation
Do not get nervous if you make mistakes
Subscribe to Leverage IELTS for more such information
Books to Improve IELTS Speaking Section
Here is an exclusive list of the best books and guides that would help you to finesse your English vocabulary and fluency and thus will further improve your IELTS speaking section.
| | |
| --- | --- |
| Books | Links to Buy |
| IELTS Speaking Section: Quick Guide To IELTS Speaking | Buy here |
| The Official Cambridge Guide To Ielts Student's Book With Answers With Dvd Rom | Buy here |
| IELTS: 10 Insider Tricks: Get our top insider tips and tricks to score a 7 or higher on the IELTS Exam. | Buy here |
| Achievers 9 Bands General Training Speaking & Writing | Buy here |
| The Perfect Guide For IELTS SPEAKING CUE CARDS | Buy here |
| IELTS Speaking Part 3 Strategies: The Ultimate Guide With Tips, Tricks, And Practice | Buy here |
| Cambridge Ielts 13 Academic Student's Book With Answers With Audio: Authentic Examination Papers | Buy here |
How To Prepare for the IELTS Online with Leverage Live?
Wondering what is Leverage Live? Leverage Live is your one-stop destination for exam prep, study programs, lucrative coaching, and more. With access to India's Best International Test Prep Educators, Leverage Live can help you become future-ready! The platforms help you ace your English Proficiency Language tests like IELTS and TOEFL, PTE while giving you democratic access to the greatest professors and easy technology—all of this at the touch of a button. With almost 5000+ students benefited, 200,000+ hours of live training delivered, 50+ educators, and 1000+ free videos and ebooks, Leverage Live is an all-in-one solution to improve your IELTS scores in the future.
Why Choose Leverage Live?
Small Batch Size
Customised Plan
Unlimited Practice
Foundation Courses
Top Notch Faculty
Webinars and Online Sessions
Book your first free demo class today at https://live.leverageedu.com/.
Leverage Edu Rockstars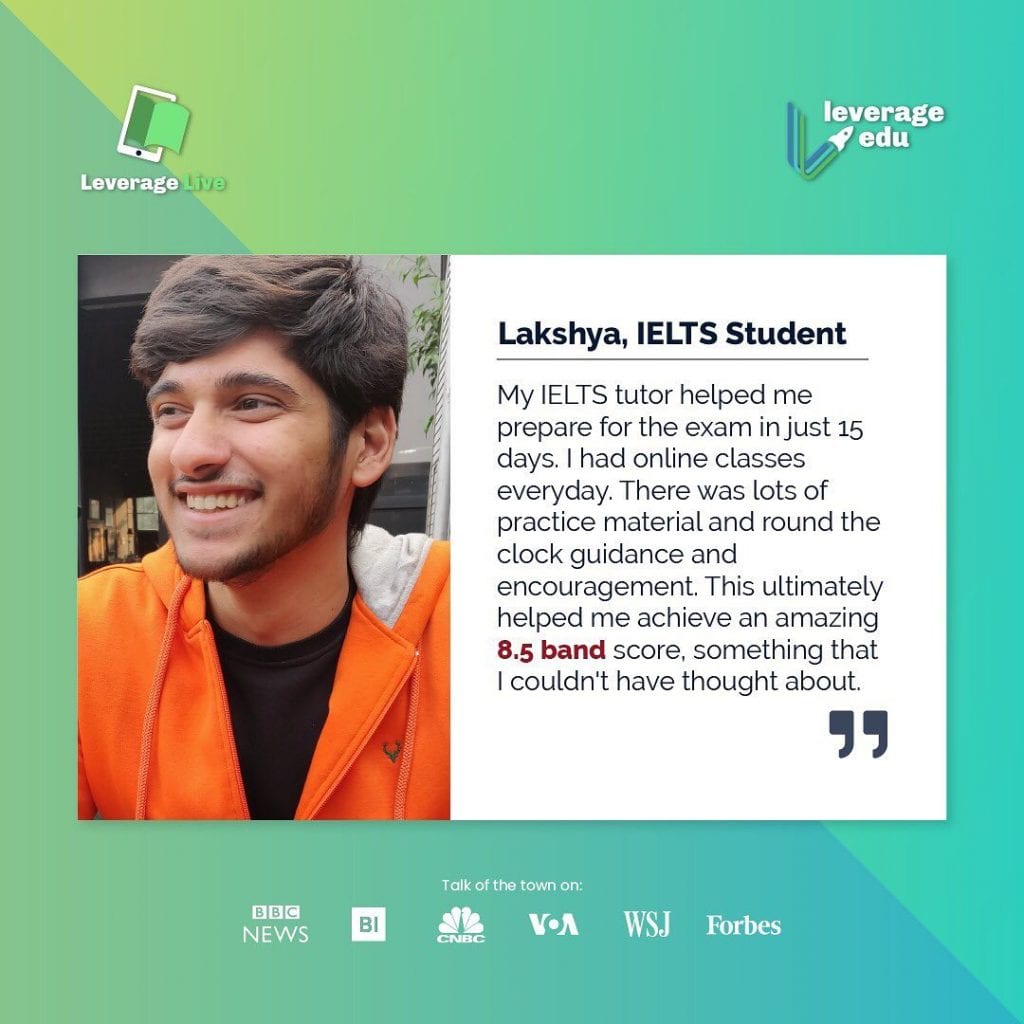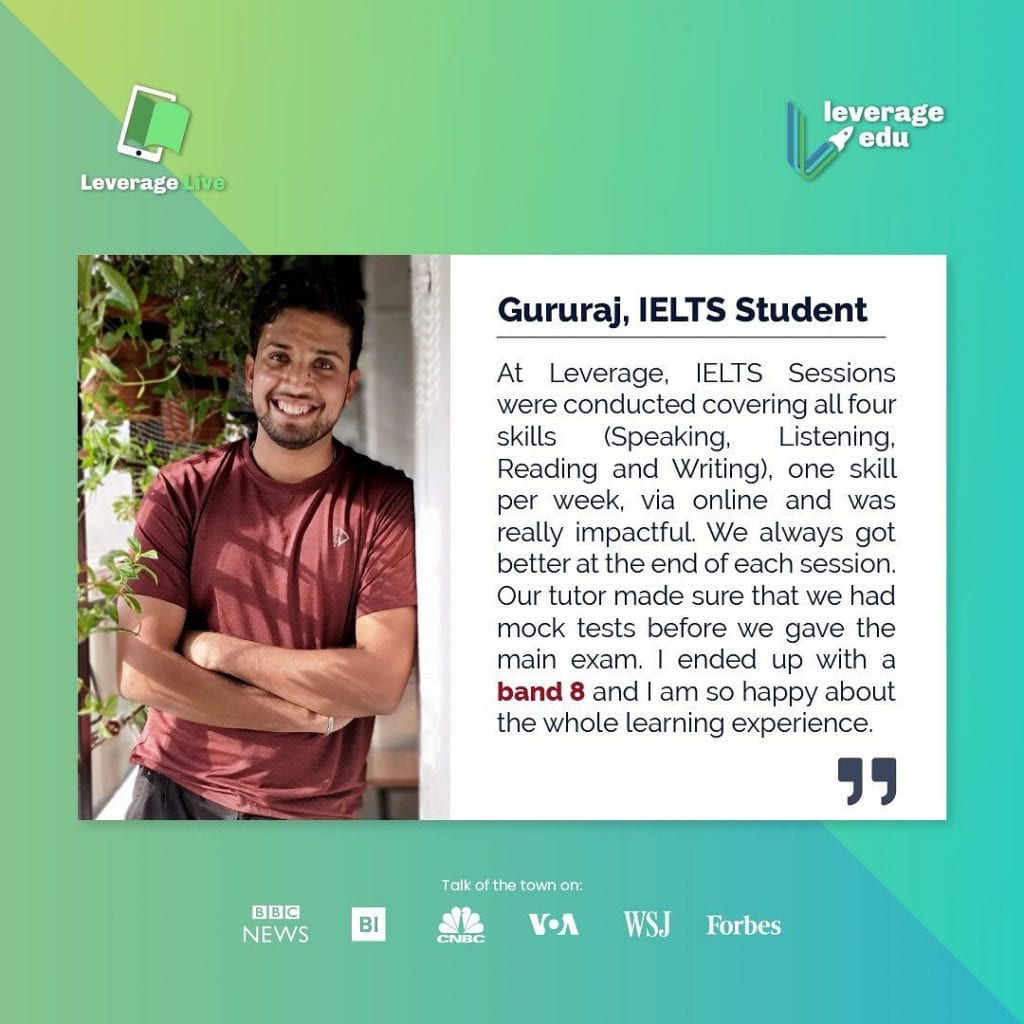 FAQs
What is IELTS?
IELTS is the popular English language proficiency test for higher education and global migration. It tests the reading, listening, speaking, and writing skills of a candidate with the help of various tasks. 
What is the test format and how long does it take?
IELTS exam pattern consists of four sections- listening, reading, writing, and speaking. The time duration is divided accordingly. For speaking(11-14 minutes),reading(60 minutes),writing(60 minute),listening (30 minutes).
Is the IELTS test completed in one day?
Reading, writing, and listening are completed in one day after each other without any break. However, for the speaking test, you need to book a slot according to your convenience.
What kind of accents can be heard in the listening and the speaking tests?
As IELTS is an international language proficiency test, a variety of English accents are seen in both tests.
We hope this blog on the IELTS speaking section helped you understand the ways to score better. We at Leverage Edu, offer expert mentorship to get a 7+ IELTS score easily! Register for Leverage Live and kickstart your preparation.