The IELTS or the International English Language Testing System is among the most popular English proficiency tests accepted by universities around the world. A large number of students in India appear for this test each year to qualify for studying their preferred degree abroad. But this year, due to the lockdown and travel restrictions in place due to the spread of the Covid-19 pandemic, students have been unable to reach the test centres to appear for their exams. As a solution to this, the British Council has launched the IELTS Indicator test which is an online IELTS test.
What is the IELTS Indicator?
The IELTS indicator is a temporary measure introduced by the British Council with the aim to allow students to test their English language skills without having to visit the IELTS test centre. The test will, similar to the IELTS, examine your writing, speaking, reading, and listening skills in English, and provide an indicative score within a week of taking the exam, which can be used for gaining admission to universities abroad. Since not all universities are accepting the IELTS Indicator scores for admissions presently, students are advised to check in advance whether the university is accepting indicative scores or not.
IELTS vs IELTS Indicator
The IELTS Indicator test follows the same format as the IELTS test. Just as with the original IELTS test, there are separate sections on listening, reading, writing and speaking. The difference between the tests is that the IELTS Indicator test is specifically designed to be done at home. This means that you will be able to take the exam at your home. The speaking section of the IELTS indicator leads to a video call between the candidate and the examiner through Zoom. The test is currently only available as an Academic test and there is no General Training option.
Why Choose IELTS Indicator?
IELTS Indicator is an online test taken from the comfort and safety of your home. The test includes four skills – Listening, Reading, Writing and Speaking, and you will receive an indicative score for each.
Also Read: How to Prepare for IELTS?
How to Appear for this Test?
You need to register for the test by visiting the website of the British Council choosing a date and time and paying a fee of $149 (INR 11,400). The instructions and login details for taking the test will be sent to your registered E-mail ID, and you have to follow the instruction to be able to appear for the test. The test can only be taken on a laptop or computer, and it is advisable to ensure that you have a good internet connection while taking the test.
Key Features of IELTS Indicator
It includes all four skills Listening, Reading, Writing and Speaking. The Speaking test is delivered via video call with a trained examiner, maintaining the IELTS focus on assessing conversational English proficiency.
IELTS Indicator is reliable, fair and accurate because it uses standard marking procedures, timings and official website examiners.
Once testing resumes, your education provider may ask you to take the in-person IELTS, even if you have taken the test. So, it is not an alternative.
IELTS Indicator Checklist
Charged Desktop/Laptop
Stable internet connection
Microphone
Speaker
Webcam
Photo ID and passport
Safe Exam Browser (SEB),
Zoom-supported Laptop/desktop
Things to Know Before Taking IELTS Indicator Test
IELTS Indicator accept both local and international issued credit and debit card and also VISA, Master Card, JCB, Diners International, Discover, American Express, Apple Pay and Google Pay
If you have a locally issued debit card, you must contact your bank before paying.
Your bank must be aware of the transaction before you pay as it may be seen as an international payment
The test fee will need to be paid in USD.
Also Read: Busting 10 Biggest Myths About IELTS
What are the Benefits of the IELTS Indicator?
Following is the list of benefits in case you have decided to take the IELTS indicator test:
For Test-Takers
The IELTS Indicator test will allow you to assess your listening, reading, writing, and speaking skills.
While IELTS testing has been suspended in some areas, you can attempt the test at home or online.
The indicator is used by many universities and educational institutions for application purposes.

The indicator

is a reliable authentic product.
For Universities and Education Providers
It's a terrific approach to assessing your prospective students' listening, reading, writing, and speaking skills in English.
The IELTS Indicator test contains official test questions and is graded by qualified IELTS examiners using IELTS test standards.
It's only available for a limited period in places where IELTS testing has been halted due to Covid-19.
What will you need for your Test?
You would require the following things to appear in the test:
A comfortable and quiet environment
A laptop or desktop computer (Mac or PC only; the Indicator cannot be taken on a mobile device)
A machine that satisfies the system's minimum and recommended criteria
An internet connection that is reliable
Inspera Exam Portal (IEP) should be installed
Headphones (wired or wireless) (for good sound quality during your Listening test)
A fully functional web webcam Zoom application for your laptop
Related Read: How to Crack IELTS In 3 Months?
IELTS Indicator Result
You will receive your Indicator results through email within seven days of your Listening, Reading and Writing test date.
Leverage Edu Rockstars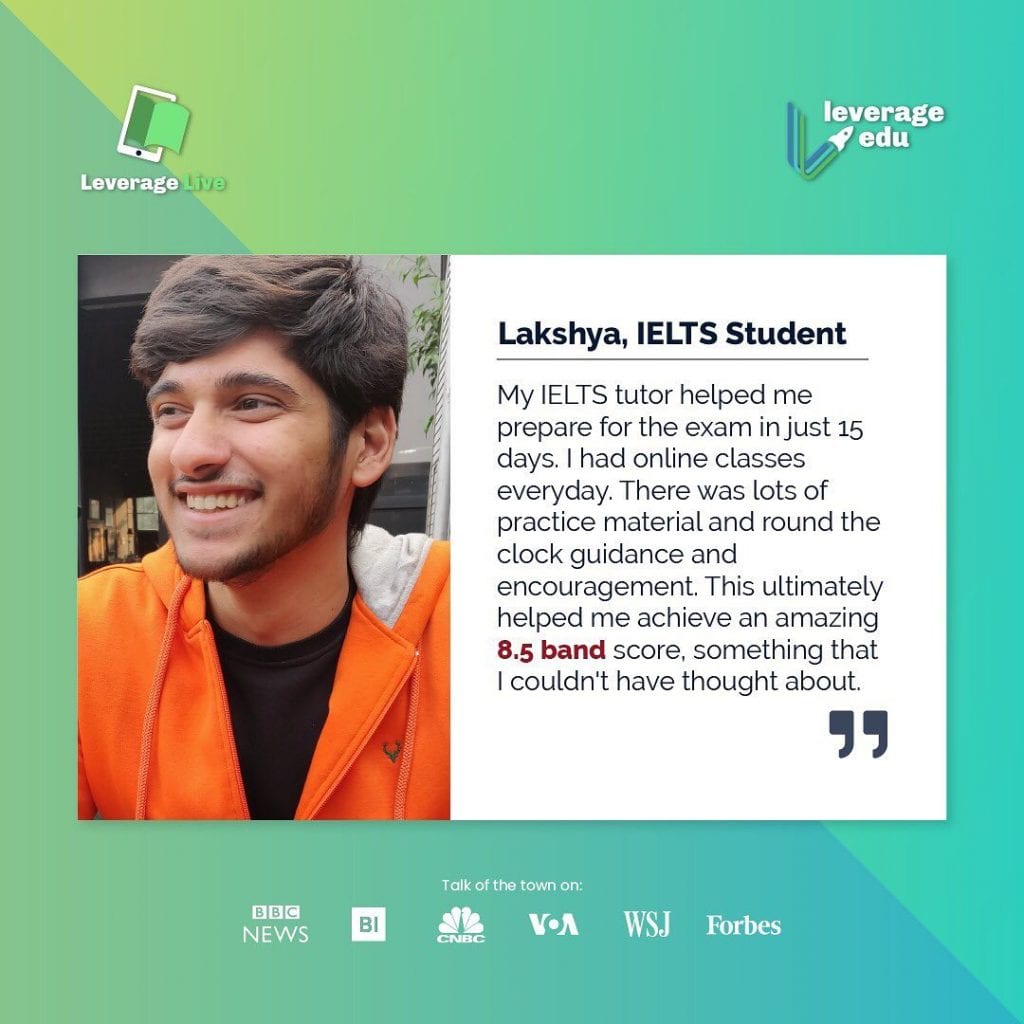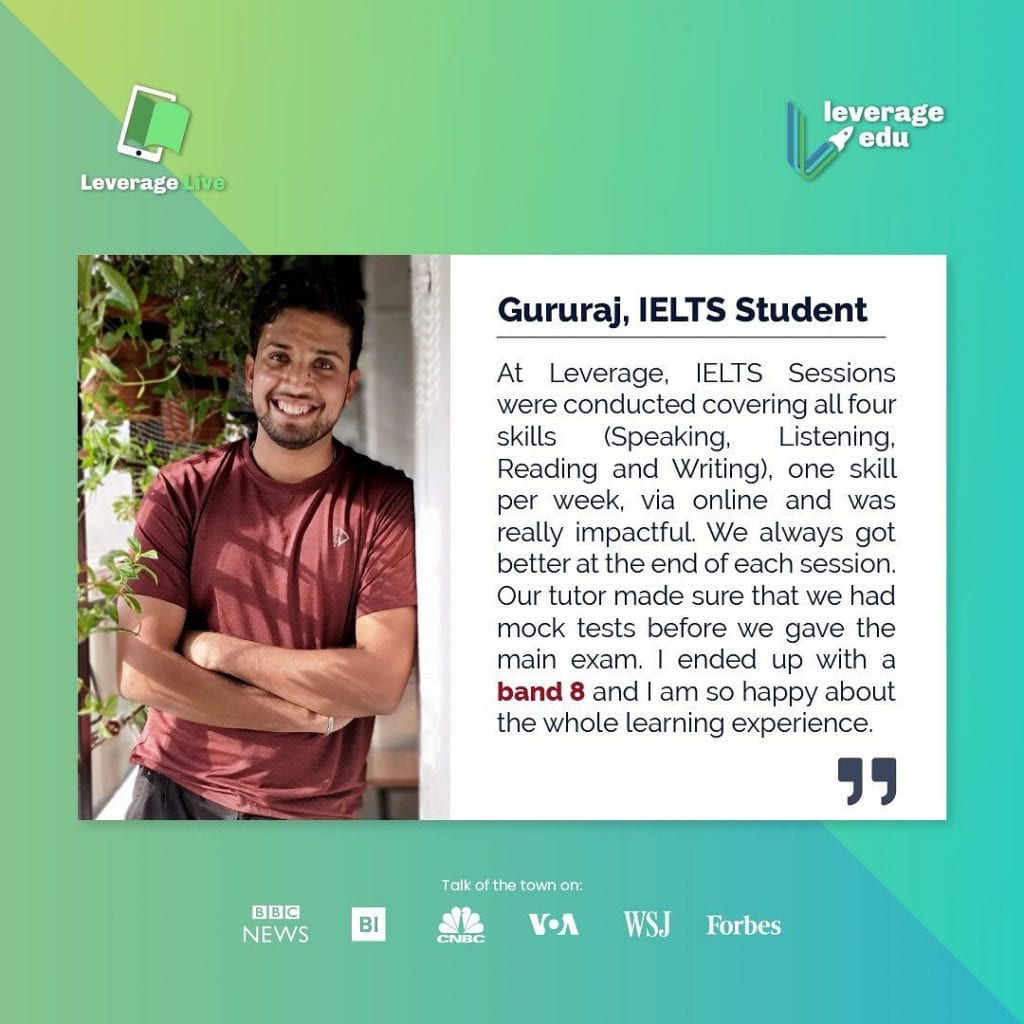 Follow, like and subscribe Leverage IELTS for more such updates
FAQs
Is the IELTS indicator test accepted?
It provides indicative scores and is not accepted by every university.
What is the difference between IELTS and IELTS Indicators?
The main difference between IELTS and IELTS Indicator scores is that you will receive an indicative score for the IELTS Indicator test. This shows that the score is representative of the score you would have received if you had taken the test in an IELTS test centre.
Who can take IELTS indicator?
Any test taker who wishes to continue the application process with their university or educational institution while IELTS testing is suspended.
What is the duration of the IELTS indicator test?
The IELTS Indicator test lasts the same amount of time as the IELTS exam. The Listening test lasts 30 minutes, followed by the Reading test, which lasts 60 minutes. The Writing test lasts for 60 minutes. The duration of the Speaking test is between 11 and 14 minutes.
The IELTS Indicator test scores are currently accepted in a number of universities in the USA, the UK, Canada, New Zealand, and Australia. Preparing for IELTS? Get in touch with Leverage Live to avail personalized online live classes, premium study materials, and doubt clearance sessions by best-in-class IELTS experts! Don't forget to check out our exclusive Leverage Edu IELTS blogs to ace your exam!