Qualifying competitive exams with flying colours whilst aspiring to study abroad constitutes an essential part of the application process. Especially the ones required to prove your proficiency in a particular language which is spoken in the country you are aspiring to study at. One such mandatory language proficiency exam is IELTS. International English Language Testing System (IELTS) is a notable examination that is compulsory to qualify if the candidate is planning to attain overseas education and belongs to a country where English is not an official language. Often the exam becomes a hurdle in the journey of those who dream of acquiring international education but struggle with English speaking or writing. If you are appearing for this exam in 2020, here is a blog to solve all your queries about how to prepare for IELTS. 
Check Out Our Detailed Analysis of the IELTS Syllabus!
How to Prepare for IELTS?
Following are some preparation tips to prepare for your upcoming IELTS exam:
Draft an Efficient Study Plan
Elaborating upon the question of how to prepare for IELTS, the first thing you need to do is create a study plan to cover the different sections of this exam. Divide your day into hours for each section and gather the essential preparation material you might need. Take important breaks during your study plans which will further help you concentrate efficiently. Further, you can also draft different types of preparation strategies for each section, such as for the listening and speaking section, you can opt for audiobooks and podcasts while for the writing section, practice through mock tests will prove useful!
Use Unique Ways to Improve Your English
One of the easiest ways to know learn the insights of a language is by joining a full-time course for it. Learning through experts can help you develop sound basics of the language further on which you can cement your advanced level knowledge. You can explore a wide range of online tutorials that can guide you in preparing for each section of the IELTS such as Speaking, Listening, Writing, and Reading. But your practice and application of the language do not limit to the institute. While pondering about how to prepare for IELTS, you must always try to converse and write in English by applying it to your daily activities. To ace the listening section, you can go through radio programs or TV shows in American and British English as well as study their accents. To improve your vocabulary you should develop a habit of reading an English newspaper daily.
Must Read: How to Prepare for IELTS Reading Section
Get a Hold of the IELTS Exam Pattern & Format
Before you start preparing for any exam, you must make ensure that you have thoroughly studied the pattern and the syllabus for the same. While exploring the techniques to how to prepare for IELTS, it is important to familiarize yourself with the exam structure to gear up for the day of the examination. As we know that there are two versions of IELTS General and IELTS Academic, thus, you must enquire about the format of the Reading and Writing Section as they differ in both versions. Carefully study the band bifurcation of each section along with information on the candidate's booklet. Gauge through the internet regarding how to cater to the niche of the examiners in the Speaking and Writing section. While creating your plan about how to prepare for IELTS, it is important to study the varied patterns and analyze the types of questions that are repeated every year and in which section of the exam there are newer every year.
IELTS Progress Check – official practice test
Make sure you know where you stand before taking the IELTS test. IELTS Progress Check is an authentic IELTS online practice exam that is graded by IELTS certified and trained markers. Take a timed or untimed test, and you'll get feedback that includes an estimated overall band score as well as individual band scores for each section: listening, reading, writing, and speaking. assisting you in planning and understanding the areas in which you need to enhance or concentrate
Go Through IELTS Sample Papers
There are numerous practice papers for IELTS that are available online as well as in preparation books. Practice as many question papers as possible. Solving them would provide you with the techniques to cope with and manage different questions and sections. Always put on the timer as per the time specified and try solving as many questions as you can. Start from the beginner level and slowly increase it depending upon the evaluation. Another key tip you need to keep in mind on how to prepare for IELTS is don't straight away start from an advanced level which will demotivate you. Jot down your weak points and in which sections you are consuming the maximum amount of time. Hence, you must proceed according to your specific level. Try a variety of books for IELTS preparation that are available.
Relax Before the Exam
While exploring the question of how to prepare for IELTS, the most important strategy is to relax your brain before the showdown. Last moment studying is never beneficial. Those who rely on doing everything on the day before the exam will not be able to apprehend the insights rather it will baffle you because of that last moment mugging. It is normal to feel a little anxious or nervous before the exam so calm your mind by doing yoga or meditation exercises. Once you are done with revising your syllabus, switch on to some soothing songs and keep your mind away from everything for a few minutes. While gearing up for the exam, eating healthy and dieting food will refresh your mind and help you concentrate better.
Understand the test format
It is vitally crucial that you are aware of the exam format before you start to prepare. Review the test's subject matter and the question and task formats for each section to become familiar with it.
Remember that familiarity with the test format and pattern is essential for success in any exam, not just the IELTS.
Immerse yourself in English
Combine exam preparation with as much language exposure as you can. Read in English about topics that interest you; online periodicals or blogs are excellent places to start. Every day, write in English in your diary, blog, or correspondence with online acquaintances who share your interests, such as those in a Facebook group. Listen to native speakers conversing, and if you can, participate.
Try using the "shadowing" method. This entails repeating in English what was just said. Stress management, intonation, and pronunciation will all benefit. Remember that self-learning is achievable if you are determined and can locate someone to provide you with feedback. Locate a place that can mentor and provide feedback if you are unable to commit or cannot find a compatible partner.
Guide to Prepare for IELTS 
Following sections will help you score amazing band score in your upcoming IELTS exam:
Step 1: Choose the best IELTS exam for you.
If you want to work, study, or relocate to an English-speaking nation, you'll need to take the IELTS exam. If you want to study in a higher education institution or get a professional license in an English-speaking country, you'll almost certainly need to take the IELTS Academic test. If you wish to study in higher education, get vocational training, or relocate to Australia, New Zealand, Canada, or the United Kingdom, you should take IELTS General Training.
If you need to, take IELTS Life Skills, which is only offered in the UK:
Submit an application for a family of established persons visa.
Apply for a visa extension for your family, spouse, or partner.
Submit an application for a visa or citizenship that will allow you to remain in the nation indefinitely.
In the United Kingdom, you can pursue undergraduate or postgraduate studies.
Professional registration is available in the United Kingdom.
Step 2: Familiarise yourself with the test
Once you've picked which IELTS exam you'll take, get to know it inside and out, from the test style to the test segments to the kind of questions to expect. Prepare for exam day by taking IELTS practice tests once you've grasped the test format and question kinds. The four components of the IELTS test are Speaking, Reading, Listening, and Writing. There are distinct tasks connected with each section of the IELTS test. You must first learn what IELTS is, what abilities are examined, and what the IELTS scores represent. After you've learned more about IELTS, you should determine whether Academic or General Training is the appropriate exam for you.
Step 3: Learn about the many forms of questions.
Listening, Reading, Writing, and Speakings are the four components of the IELTS Academic and General Training examinations. There are several sorts of questions in each portion of the test.
Get to know the sorts of questions you'll see in each section of the exam, as well as the amount of time you'll have to complete the Listening, Reading, Writing, and Speaking sections. Also, download the free practice exams to get a feel for the various question styles.
.
Step 4: Know the band scores
Your IELTS score is calculated on a scale of 0 to 9, with 0 being the lowest and 9 being the highest. Each band represents a different degree of English ability. You'll receive a band score for each exam part as well as an overall band score. Full and half band scores, for example, 7.0 and 8.5, are given.
For the Speaking and Writing examinations, it's a good idea to get to know what each score represents and the grading criteria that examiners use.
Step 5: Study and establish goals
It's vital to study for your IELTS exam, so make it a habit to use English in the weeks leading up to the test. Setting simple study objectives might help you gain a good start on your IELTS preparation. You might wish to think about the following objectives:
Get to know the band's musical scores.
Examine your English abilities.
Make learning English a habit.
Make a study schedule.
Step 6: Know what to expect on the day of the exam.
Familiarize yourself with what to expect on test day to help you relax before the exam. On exam day, keep the following points in mind:
Make sure you give yourself plenty of time to register and secure a seat for your exam.
Check-in personal things like as phones, smartwatches, books, and notes.
Bring your personal identification with you to the check-in process, as it will be necessary.
You'll be better prepared to earn the IELTS band score you need if you include these 6 stages in your IELTS preparation strategy.
[Bonus] IELTS: 7 Idioms for a 9 Band Score
Leverage Edu Rockstars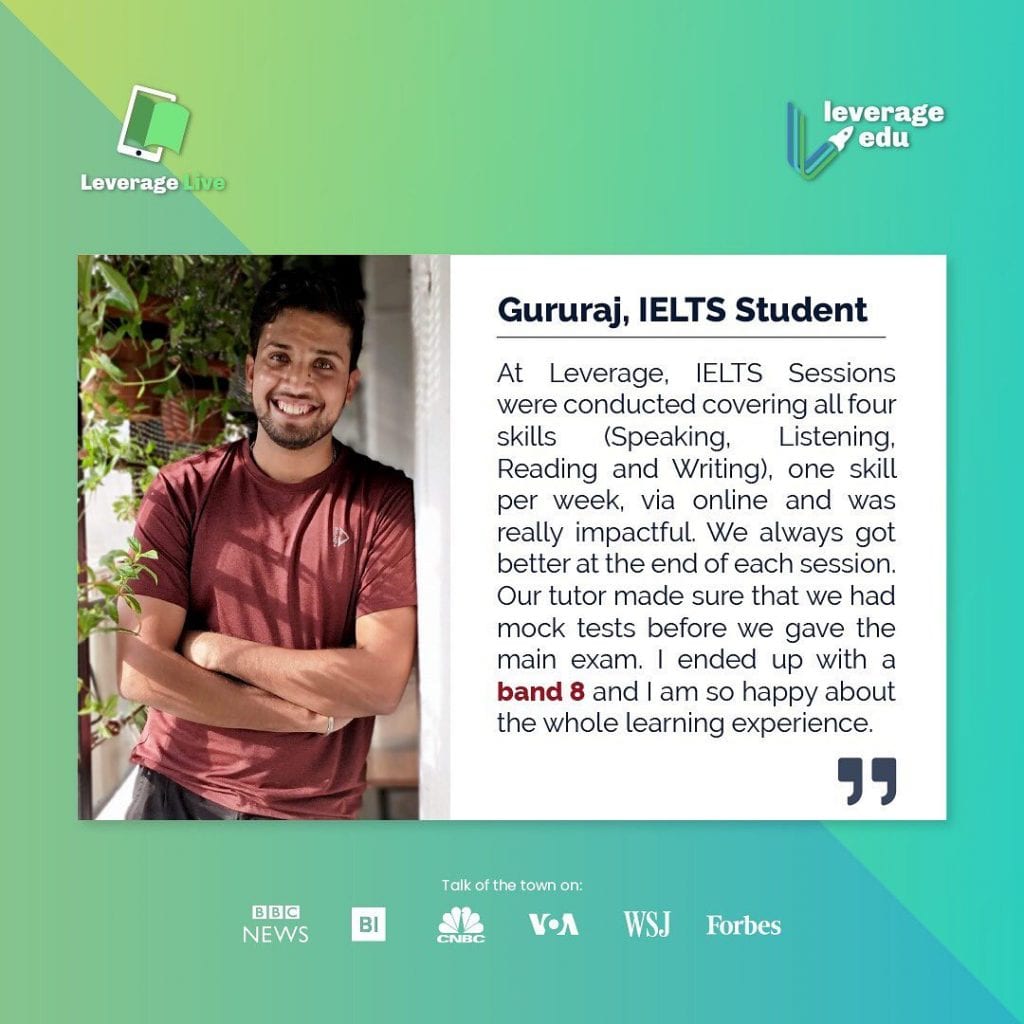 Subscribe to Leverage IELTS for more such information
Thus, we hope that this blog has provided you with the essentials on how to prepare for IELTS. If you are aiming to appear for IELTS 2023, our Leverage Edu experts are here to provide you with the necessary guidance, study materials as well as last-minute exam tips to ensure that you sail smoothly throughout your preparations and crack the exam with high scores!