To pursue higher education abroad, apart from submitting a list of documents like SOP, LORs, etc, and English proficiency test scores [If applicable], one also needs to obtain a minimum percentile in competitive exams. While SAT and ACT are important for taking admission in undergraduate courses, exams like GMAT, LSAT, etc, are required for Graduate programs. One such exam for pursuing postgraduation programs is the GRE. It serves as a gateway to various graduate programmes and business schools across the globe.

Just when you thought you had the GRE all figured out, there's a buzz in the air about some significant changes. Buckle up, because the GRE landscape is about to transform! Therefore, in this blog, we have compiled all the important information from the latest changes in the exam pattern to preparation tips pertaining to this exam.
Full-Form
Graduate Record Examination
Types of GRE
GRE General Test
GRE Subject Test
Syllabus
Analytical Writing,
Quantitative Reasoning, and
Verbal Reasoning
Eligibility
Applicants should be 18 years or above with a bachelor's degree.
Cost
GRE General: USD 213 [Rs 15,784]GRE Subject Test: USD 150 [Rs 11,120]
GRE at Home
Apply on ETS and Take GRE at ProctorU
GRE Official Website
https://www.ets.org/gre.html
Quick Read: How to Prepare for GRE Online?
New GRE Guidelines
The GRE exam has undergone a makeover, bringing forth several changes aimed at enhancing the test-taking experience and aligning the assessment more closely with the skills required in graduate studies.`Here are the key changes you need to know:
| | |
| --- | --- |
| GRE New Updates | Relevant Specification |
| Test Duration Cut in Half | The total GRE Test Duration is now 2 hours instead of a gruelling 4 hours. |
| Simplification of Analytical Writing | Candidates now need to write only 1 essay instead of 2 Analytical essays. |
| Revision in Verbal and Quantitative Sections | The number of questions in each of these sections has been reduced from 40 to 27 |
| Analysis and Argument Essay | The analysis and argument essay task has been eliminated |
Important Update
ETS, the organisation which is responsible for conducting GRE and TOEFL exams in India has set up subsidiaries in Delhi. The key objective for this venture is to empower the Indian workforce by providing assessments and learning products that grow the skillset of Indian learners and workers of tomorrow. Hoping to be a contributor in increasing their English-language skills and acquiring knowledge in STEM subjects, ETS India aims to generate a new batch of Indian candidates that can able to pursue their educational and professional dreams.
Aadhar Card is being accepted as ID proof for GRE since July 1 2021
Since July 1 2021, the conducting body for GRE and TOEFL has started accepting Aadhar cards as ID proof of the candidates. This condition was specifically put forward considering the pandemic restrictions and the inaccessibility of the candidates to apply for a passport. Although a temporary measure, it will continue until the situation gets better.
ABA-credited Law Schools can NOW accept the GRE instead of the LSAT
Since November 2021, ABA-accredited law schools can start accepting GRE scores from applicants other than LSATs. In 2021, 60 law schools in the USA submitted their GRE scores. These scores were converted into percentiles and weighted by the proportions of examinees taking each exam. Among highly ranked institutions, Harvard Law School, Columbia Law School and Duke University School of Law have started to accept GRE scores from applicants.
Also Read: GRE Test Prep
What is GRE?
Administered and conducted by the Educational Testing Service (ETS), the Graduate Record Examination (GRE) is a test taken by students who wish to pursue a master's or PhD program in the US. It is amongst the toughest exams in the world and is available in both online and offline modes. Further, you can appear for this exam 5 times in 12 months (a 21-day gap between each attempt). Anyone, irrespective of age, who has a bachelor's degree can give this test. Nowadays, universities across countries like France, China, Australia, Germany, etc have also started accepting GRE scores for admissions. 
Types of GRE
There can be a lot of confusion while applying for a GRE exam, especially regarding which ones to apply for. When it comes to this standardized test, there are three kinds of GREs.
GRE Computer-Based Test – This computer-based version of the GRE exam is undertaken online by the candidate. This online version of the GRE is the most common way candidates appear for their GRE exams.
GRE Paper-Based Test – Although there are no GRE Paper-Based Tests available in India at the moment, these exams are usually taken in those circumstances where the candidates have limited access to the Internet or Computers.
GRE at Home Test – this is one of the recently launched versions of GRE that allows the candidate to undertake this exam from their home while having a conducive environment during the entire duration.
Also Read: How to Ace GRE Verbal Reasoning Section?
Who takes GRE?
If you are planning to appear for a GRE test in order to pursue your study abroad dreams but are confused about whether you require the scores for your application then the following information may clear things up for you.
Students planning to pursue MS courses, MBA courses, professional degree programs or aiming for a program that includes thesis work are required to submit their GRE scores.
There is also a wide demand for GRE scores in lieu of the GMAT exams by business schools.
Many law schools are also accepting GRE scores in the USA in alternative to LSATs.
Also Read: GRE Syllabus
When Should You Take The GRE test?
If you are confused about whether now is the right time to undertake the GRE exam then this section will clear your doubts.
Candidates should note that the GRE exams which can be taken through an online computer test and the ones undertaken at home are available throughout the entire year.
More specifically, the right time to appear for the GRE exam is after preparing it 60-90 days prior to their university application deadlines.
GRE Eligibility Criteria
| | |
| --- | --- |
| Components | Details |
| GRE Eligibility | No specific eligibility criteria have been mentioned for this exam. |
| Nationality | Since this exam is a standardised test for pursuing Masters in various countries, there is no restriction on nationality. |
| Age Limit | Applicants should be 18 years or above. |
| Academic Qualifications | Graduate Degree |
GRE Syllabus
"Practise makes a man perfect". This statement stands true when it comes to giving this exam. Your skills are tested more than your knowledge in this test. Therefore, it is advisable to go through the syllabus at least once. The topics included in the syllabus are tabulated below.
| | |
| --- | --- |
| Sections | Syllabus |
| Analytical Writing | The primary objective of this section is to test how effectively a student can summarise complex ideas in an easy yet concise way. |
| Verbal Reasoning | The topics under this section include: Idioms, vocabulary, parallelism, critical reasoning, reading comprehension, nouns, pronouns and adjectives, text completion, verbs and tenses, subject-verb agreement and pronoun agreement |
| Quantitative Reasoning | In this section, the questions asked are generally from topics like geometry, algebra, and data analysis. To understand this topic, you can read our blog on the GRE quant syllabus. |
If you want to know the syllabus of GRE SUBJECT TESTS, then read our GRE Syllabus blog!
GRE at Home Guidelines
With the COVID-19 pandemic outbreak, ETS has started offering the "test at-home" option for those who can't visit the test centres due to partial or complete lockdown. Here are some points which you must know about this.
The GRE pattern and format will remain the same.
You can take the test on your own computer and it will be monitored by a human proctor through ProctorU.
This option is not available for Iran and Mainland China.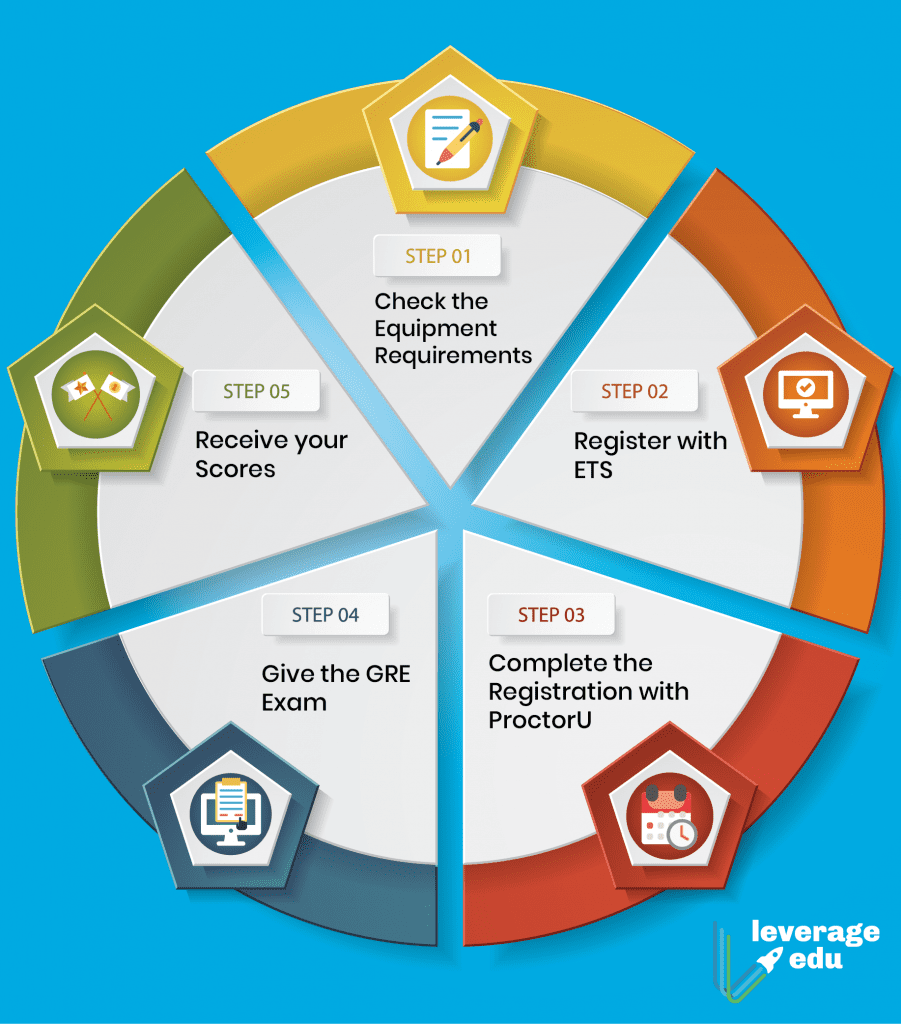 Want to Prepare for GRE from the Comfort of Your Home? Then Click Here to Register for Live Online Classes and Take a Step Towards your Dream University!
GRE at Home vs. GRE at Test Centres
Here are some of the major differences you may find between taking a GRE exam at home to taking it in test centres.
The home test is conducted from the safety of your home while for the GRE test centres, you have to appear in the allotted test centres to undertake the exam.
The home exams do not have a specific scheduled time while the test centre exams required the students to reach the centre in the allotted time.
If you are appearing for an exam from home, then you have to take care that a few software runs through your computer and there is no electric outage in between. While the candidates appearing from test centres do not have to worry about that as the exam organisers take care of such requirements.
GRE Exam Dates 2023
The GRE Exam dates are available seven days a week. For GRE General Tests 2023, tests are available round the clock, seven days a week, with appointments as recent as 24 hours after you register. It is advised to book a slot for the exam at least 3 months before your university application deadline.
GRE Registrations

Registration Charges
| | |
| --- | --- |
| Events | Charges |
| GRE General Test Registration Fee | USD 213[Rs 15,784] |
| GRE Subject Test Registration Fee | USD 150 [Rs 11,120] |
| Rescheduling Fee | USD 50 [Rs 3,705] |
| Changing Test Centre/Subject | USD 50 [Rs 3,705] |
| Online Score Viewing | FREE |
| Additional Score Reports [ASRs] | USD 27 [Rs 2,000] |
| Subject Test Score Review | USD 50 [Rs 3,705] |
Note: These are the approximate charges and can vary based on the Dollar to Rupee conversion rates.
Registration Fee Worldwide
Here is a list of what registration fees cost in a few other countries than India.
| | |
| --- | --- |
| Location | GRE Fee |
| Australia | INR 17,179 |
| China | INR 17,254 |
| India | INR 22,550 |
| Nigeria | INR 16,880 |
| Turkey | INR 19,046 |
GRE Exam Pattern
As discussed, GRE is conducted both in online and offline modes. While verbal reasoning deals with reading comprehension and vocabulary, quantitative reasoning assesses basic high school-level maths. In the analytical writing section, your essay writing skills are tested. Though the number of sections remains the same, the pattern in both cases differs slightly. Here is the GRE exam pattern of both paper-based and online tests.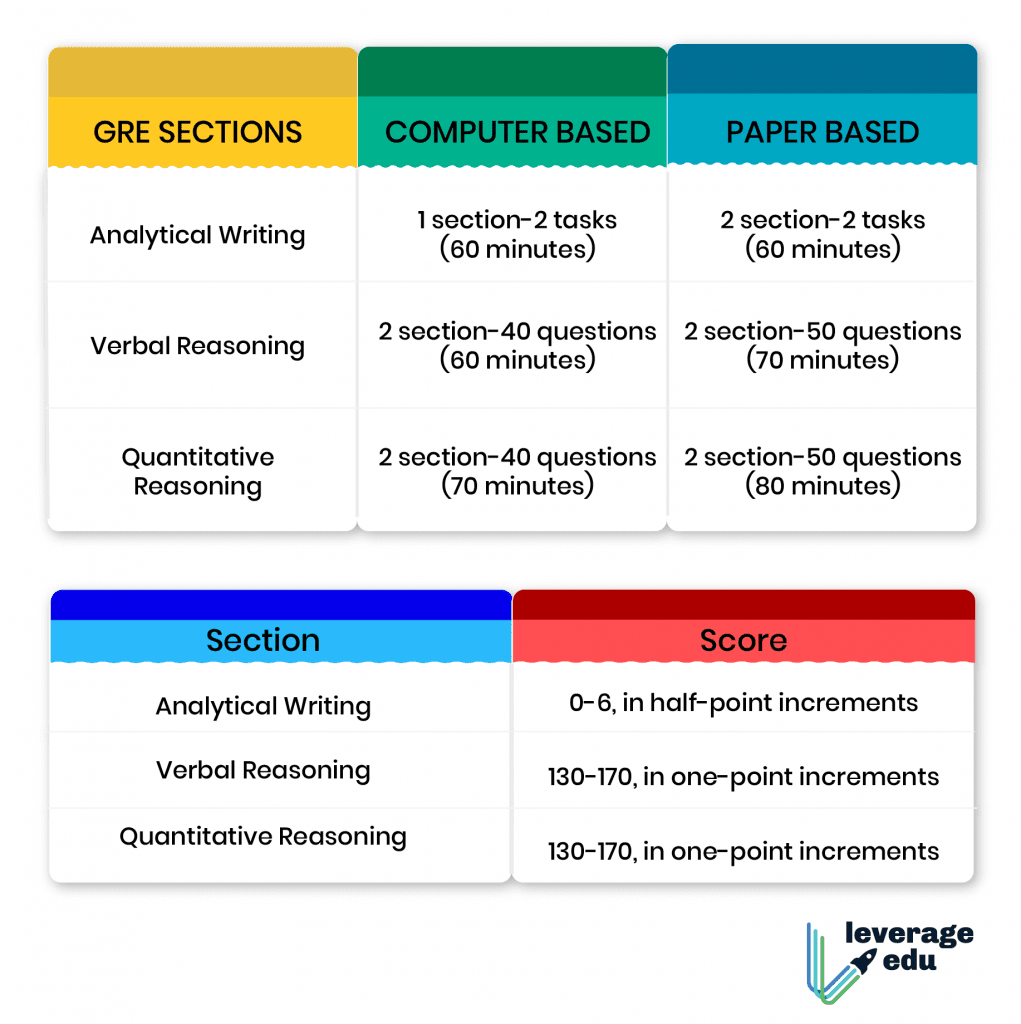 Computer-Based
A total duration of 3 hours 45 minutes is allotted for this test and a 10-minute break is also given after completing the 3rd section. Apart from the sections mentioned above, there are two more parts to the online GRE exam:
Unidentified Unscored Section – It comes after the analytical part. The primary objective of this section is to test you for future general tests. Thus, the score is not added to your final marks.
Identified Research Section – This score obtained is not added to the final score and the questions are only added for ETS research purposes. 
Paper-Based
With the same three sections, this exam concludes in 3 hours and 30 minutes. This test starts with the analytical section but unlike the GRE General Test, you can attempt the reasoning and verbal section in the order of your preference. 
GRE Test Centres
In India, this exam is conducted across 22 cities. Out of them here are a few important test centres listed below.
City
GRE Test Centre Location
New Delhi
Cyber Station
CPS Global, E-512 (Third Floor), Sector – 7
Dwarka (Near Ramphal Chowk), New Delhi

Merit
A-9, Qutub Institutional Area, Shaheed Jit Singh Marg,
Near JNU, New Delhi

Council for American Education
A-260 (3rd floor), Defence Colony,
New Delhi

Chandigarh
Saint Kabir Public School
Sector-26 Computer Lab, Chandigarh
Gurgaon
Prometric Testing Private Limited
Iris Tech Park (2nd floor), Tower A
Sector 48, Sohna Road, Gurgaon

ETS Onsite UAS Intl Production Lab
2nd floor, DLF Infinity Tower A,
Sector 25, Gurgaon

Chennai
Prometric Testing Private Limited
Unit#8 (3rd floor), Centennial Square, No 6A
Dr Ambedkar Road, Kodambakkam, Chennai

Everonn Systems India Limited
15, Jagannathan Road, Nungambakkam
2nd floor, Romar House, Chennai
To know the complete list of all the test centres across India, read GRE Test Centres in India
How to Calculate GRE Scores?
Understanding the process of score evaluation is essential in order to assess your errors. The section-wise score range and increments have been given a rundown in the table below.
| | | |
| --- | --- | --- |
| Sections | Score Scale | Increments |
| Analytical Writing | 0-6 | Half-Point |
| Quantitative Reasoning | 130-170 | 1-Point |
| Verbal Reasoning | 130-170 | 1-Point |
| GRE Subject Test | 200-990 | 10-Points |
Take a look at our detailed scoring analysis on GRE Results and Score!
What is a Good GRE Score?
"What is a good GRE score ?", "What score is needed to get admitted to Ivy League colleges?". These questions haunt students more than often. While scoring well in this exam is important, there is no minimum cut-off prescribed for this test because the admission process is holistic in nature. Apart from this, a candidate's CGPA, work experience, extra-curricular activities, and internships also play a pivotal role in admission. Thus, 
If you have a strong work profile, a good CGPA, and a 320+ score, then you have a high chance of getting selected for an Ivy League college. If not an Ivy League, then certainly in the top 20 global universities.
A score between 300-320 can help you secure admission to the top 20-100 colleges.
A score of less than 290 can be compensated with a good work profile.
Top Universities Accepting GRE Scores
GRE scores are usually considered for MS as well as MBA degrees abroad and might also be taken for other postgraduate programmes. The exam scores are also widely accepted in prominent study destinations across the world such as the US, UK, Australia, Canada as well as European countries. If you are wondering which score range you need to target to get into your dream university abroad, go through the following list.
GRE Preparation Tips
Well isn't this what we are always looking for? Below are a few preparation tips which you should keep in mind while preparing for this coveted exam.
Identify your weaknesses and convert them into your strengths
Reading comprehension gives you nightmares? Then start practising it in advance. Do you lose more than gain in profit and loss questions? Then analyze your mistakes, hone in on those errors and improve your score. 
Read, A LOT!
It is important to read newspapers, blogs, and books regularly to ace this exam. It helps in improving your vocabulary, grammar, and comprehension ability.
More cram, more spam
Just like the unsolicited mail in our spam box, unnecessary cramming can lead to information overload. Therefore, memorise only the important formulas and work on your mistakes. 
Practice, practice till you succeed
The ultimate goal should be to practice as many questions as possible to master this exam. Practising sample papers will not only enhance your speed but will also improve accuracy.
Take a look at our exclusive study plan and preparation strategies at
How to Crack GRE in 3 Months!
GRE Sample Questions
Since you have now been familiarised with the nitty-gritty of the GRE exam, here are some sample questions you can go through.
The conflict between generations may be a problem that has persisted for centuries, but the nature and intensity of the conflict obviously _____ in response to changes in social and economic conditions
Increase
Decline
Disappear
Vary
Wane
If the integer m is a multiple of both 10 and 12, then all of the following must be factors of m EXCEPT
15
10
12
6
8
There are 3 children of a lady. In how many ways is it possible to dress them for a party if the first child likes 3 dresses, the second likes 4 and the third likes 5 but the third child has outgrown one of them? Each child has a different set of clothes.
11
10
60
48
15
IMPREGNABLE: ASSAULT::
invincible: control
independent: conquest
inimitable: modification
immutable: alteration
intractable: Destruction
In how many different ways can 3 yellow shirts and 3 white shirts be distributed among 6 children such that each child receives a shirt?
20
216
40
720
729
To practice more questions, check out GRE Sample Paper!
GRE vs GMAT: Which exam One to Choose?
Both GRE and GMAT are the major standardized exams that one needs to take in order to apply for postgraduate programmes abroad. But the dilemma between these two arises for MBA aspirants since many international business schools and universities, especially in the US and Europe, are readily accepting GRE scores for MBA admissions. Thus, choosing between these two can be a tough decision and this is why we have elaborated upon their key differences and similarities thus, bringing you an unbiased comparison between these two tests, you can check it out at GRE vs GMAT.
To get the entire list of universities, read top universities accepting GRE scores!

FAQs
How much does it cost to take the GRE?
For the GRE General test, all countries except the USA, Nigeria, Turkey, and China have to pay $205 which is Rs. 15,000. The price for the GRE Subject test is $150 which equals Rs 11,000.
How do I send my GRE Scores?
You can send your scores to 4 Universities or fellowship sponsors on the test day free of cost. But if you wish to send your scores after the test day or to some other institutions, then you will have to shed $27 per recipient.
Further, ETS offers a "score select option". This allows you to decide which score you want to forward to the universities. It can either be your current score, previous score, or all the test scores. 
Is the GRE score accepted for taking admission to Law and Business schools?
Yes, it is. The GRE general score is used to pursue a JD program (Juris Doctor) in law. Further, many universities like Harvard and Oxford use this score to admit students to their business programs.
How many times can one take GRE?
A candidate can take the GRE test 5 times a year, once every 21 days.
How long are the GRE scores valid?
Unlike TOEFL, the scores of which are valid for only 2 years, GRE scores have a validity of 5 years. So, for instance, if you give your exam on 15th June 2016, the score will be valid until July 2021. What is important to note is that the scores reported before July 2014 will no longer be considered valid.
When will I receive my GRE results?
Your GRE results and scores will be available to view within 15-20 days after completing your exam and will be forwarded to your chosen academic institutions within 3 weeks of your test date.
Thus, with this blog, we have tried to give you an insight into all the important details of the GRE exam. If you are planning to pursue your Masters abroad and need more training in preparing for this exam then build a plan with Leverage Edu'sLeverage Live classes and our top trainers will strengthen your English score and your application to secure your spot at your dream college.