Singapore is famous for its affordable education system and academic excellence among international students. With the support of Singapore's Ministry of Education, it has become an Engineering hub for Indian students. Country's government offers financial assistance to international students to ease the financial burden. Let us explore the scope of Engineering in Singapore through this blog!
Why Study in Singapore?
Why Study Engineering in Singapore?
Today Singapore houses state of the art educational infrastructure, affordable education, robust research facilities, multidisciplinary courses and immense career opportunities. The country is well known for its Engineering infrastructures and its educational institutions like the National University of Singapore and National Technological University which are ranked in top 50 universities as QS World University Rankings. Most importantly, a welcoming sign for studying Engineering in Singapore is its low tuition fee which is falling with reasonable limits. Unequivocally, there are vibrant companies around offering immense career opportunities to Engineering pass-outs.
Just like Engineering in Singapore, there is another popular course in the country.
Read our blog on Hotel Management in Singapore and find out!
Eligibility Criteria
It is quintessential that you are accustomed to eligibility criteria which can take you into the top-notch academic institutions of Singapore. Make sure that you are following the below-given criteria for your admission process. Let's understand each of them in a tabular form below:
Undergraduate Level
If you are aiming to pursue your undergraduate degree in engineering, make sure that you have an effective SOP prepared apart from LOR which is required for many courses. Class 12th mark sheet and passing certificate are mandatory.
Postgraduate Level
Looking forward to having your postgraduate level degree, be prepared with sound SOP's and LOR's which are required for many courses. You need to have a bachelors degree from a relevant field of study. For many courses, strong essays are recommended apart from CV and additional documents.
Doctoral Level
You need to have a postgraduate degree in the relevant field of study.
Make sure that you have an effective SOP and LOR prepared. Strong essays, as well as your profile along with additional documentation, will play a crucial role. Research and project reports will add great value to your application!
Also Read: MS in Mechanical Engineering in Germany
Application Process to Study in Singapore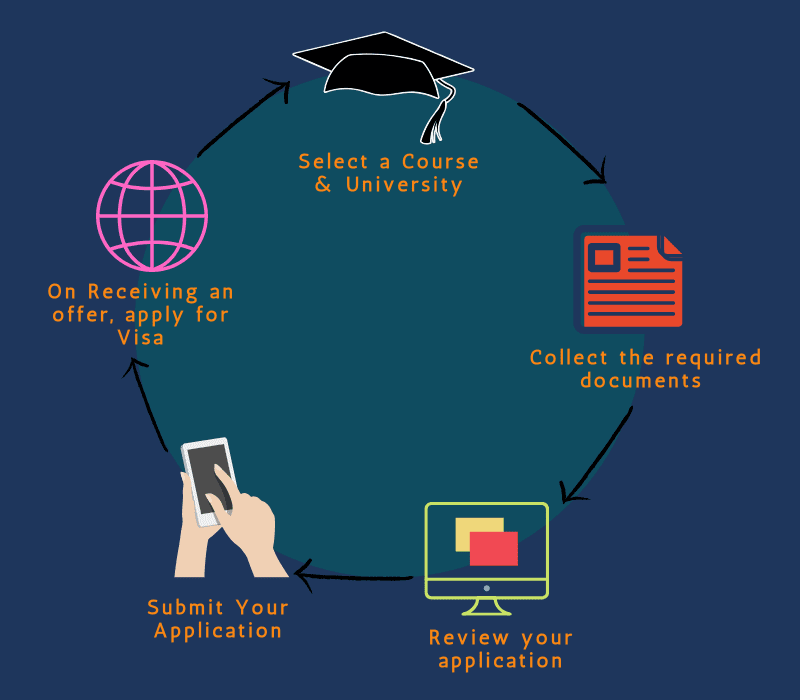 Popular Engineering Degrees in Singapore
Knowing the exact Engineering degrees will surely smoothen your academic process. Let's get to what are the popular Engineering degrees in Singapore you should take into consideration:
Bioengineering
Chemical & Biomolecular Engineering
Civil Engineering
Computer Science
Electrical & Electronics Engineering
Environmental Engineering
Information Engineering and Media
Materials Engineering
Maritime Studies
Engineering with Business Minor
Engineering Product development
Engineering Systems and Design
Information Systems Technology and Design
Architecture and Sustainable Design
Naval Architecture
Offshore Engineering
Mechanical Design & Manufacturing Engineering
Mechatronics
Industrial Engineering
InfoComm Technology
Here are the options to study in Singapore without IELTS!
Top Universities
Hope, you are familiar with cutting edge Engineering degrees you can expect to pursue from Singapore institutes. Let's move ahead and understand top-notch Engineering institutions based in Singapore. All these institutions have already achieved a benchmark in Educational excellence with their vibrant research facilities and overall institutional setup. For Engineering in Singapore, be assured that the below-mentioned universities would be your one-stop educational destination for your career prospects.
SIM University
National Institute of Education
PSB Academy
German Institute of Science And Technology
Singapore Institute of Engineering Technologists
The Logistic Institute-Asia Pacific
Shines College
Here is a list of Top Engineering Colleges in New Zealand!
Hope this blog has helped you understand the core aspects of studying Engineering in Singapore. Amid competition and daunting admission process, Engineering in Singapore can be your preferred choice since it has a lot to offer. Looking forward to getting your undergraduate, postgraduate or doctoral Engineering degree in any Singapore university? Leave your worries aside and let the professionals at Leverage Edu facilitate your academic journey. Book your free 30 minutes of e-counselling with the team now and discover a plethora of educational possibilities.