Diego Armando Maradona Franco popularly known as Diego Maradona was a former professional Argentine footballer. He is considered to be one of the greatest footballers to have ever played the sport. He was awarded the Best Player of the 20th Century by FIFA. The football legend had celebrated his birthday on October 30th, 2020 for which birthday wishes and stories about him did the rounds in social media. Sadly, the man who led Argentina to victory in the 1986 World Cup passed away on 25th November 2020. Discover his life journey to being the ultimate football legend of all the times with this blog!
"To see the ball, to run after it, makes me the happiest man in the world."
– Diego Maradona
About Diego Maradona
Full Name: Diego Armando Maradona Franco
Nickname(s): Hand of God, The Golden Boy
Date of Birth: October 30th, 1960
Place of Birth: Lanús, Argentina
National Team: Argentina
Jersey Number: #10 (Argentina and Barcelona)
Date of Death: November 25th, 2020
Early Life
Diego Maradona was born in the city of Lanús, Argentina on October 30th, 1960 to Diego Maradona "Chitoro" and Dalma Salvadora Franco who was known as 'Doña Tota'. He had a modest childhood and was raised in the town of Villa Fiorito in Lanús, on the outskirts of Buenos Aires.
At the age of three, he got his first soccer ball as a present and soon became interested in the game. Diego Maradona was spotted by a talent agent when he was playing at the Estrella Roja neighbourhood club when he was eight. Such was his passion for sports, specifically football.
"Soccer is the most beautiful and healthy sport in the world. Soccer shouldn't have to pay for my mistakes. It's not the ball's fault."
– Diego Maradona"
Diego Maradona's Debut and Rise to Glory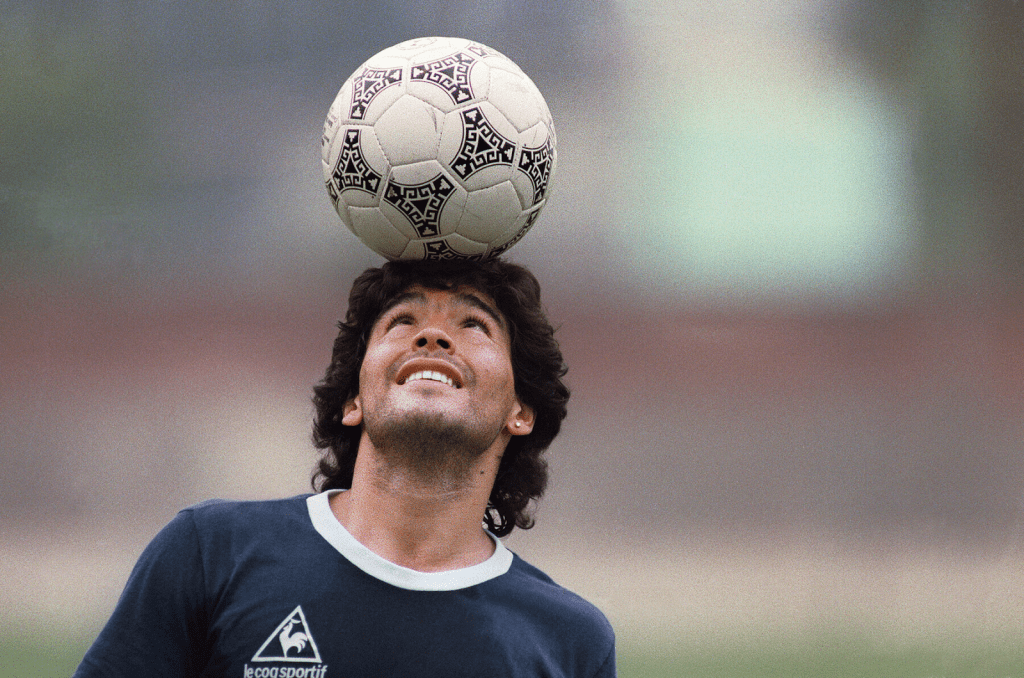 Due to his natural skills, Maradona was made the main player of Los Cebollitas (The Little Onions) which was the part of the Argentinos Juniors of Buenos Aires in 1976. His international debut was in this year as Argentina played against Hungary. At Argentinos Juniors, he appeared for five years and scored 115 goals in 167 games after which he was transferred to Boca Juniors for a whopping sum of USD 4 million.
In 1982, for the then world record fee of US$ 7.6 million, Maradona, who was 21 years old was sold to Barcelona in Spain after which the team rose to its glory. In a quarter-final win over England, his contribution there included two unforgettable goals. The first goal was played unfairly with his left hand, which Maradona later believed was the job of the "Hand of God", but the second goal involved no divine intervention besides an ethereal capacity to dribble through an attack of defenders to reach the corner of the net.
Diego Maradona had a tough time in Barcelona due to medical reasons and injuries, as well as infamous events on the field which ultimately led to his transfer. During his stint in Barcelona, Maradona scored 38 goals in 58 games. Maradona spent most of his life playing for his home country after which he announced his retirement on his birthday in 1997.
Must Read: Life Lessons We Can Learn from Sports
Diego Maradona's Life after Football
Diego Maradona was voted the best player of the 20th century by an internet survey organized by the Fédération Internationale de Football Association. Maradona was appointed to coach the Argentine national team in 2008. After his retirement, he played a few charity matches in order to raise money for trusts and charity organizations. As a hometown hero who flourished from humble origins to hit the pinnacle of fame on the international arena, Diego Maradona always remained loved in Argentina. Sadly, Maradona passed away at the age of 60 on 25th of November, 2020.
"Even if I played for a million years, I'd never come close to Maradona. Not that I'd want to anyway. He's the greatest there's ever been."
– Lionel Messi.
Important Skills to Learn from Maradona
Despite modest beginnings from an early age, Diego Maradona displayed a high potential with the soccer ball. He did what he loved and made a successful career out of it. Combined with his relentless performance in football, his single-minded dedication to succeed showed that self-belief will help you realize your dreams however tough the situations might be. Inherent self-confidence in one's ability means that, even on a global arena, one does not get distracted from a top notch performance. The important skills to learn here is to believe in yourself.
Due to his short stature, Maradona did not tower above the opponents, but he could move quicker than most other players because his physical stature gave him a low centre of gravity. Maradona showed us that size doesn't matter in a physically strenuous sport like football.
Despite various infamous controversies, Maradona emerged like a phoenix and chose to pursue his passion for football. In real life, this teaches us that you should make the best of what you got and always be unapologetic about it. Maradona was one of the greatest of all time and he will always be. His legacy will continue to live on through his home country, achievements, adoring fans and his innate passion for the game.
Also Read: Skyrocket your Career in Sports
There is a lot to learn from the ultimate journey of Diego Maradona, the football legend! The world of football will remain a better place for it to have been graced by Maradona. For more such awesome content, keep checking Leverage Edu!