You don't always need extensive research and resources to improve something. Dev Kumar Verma is one of those who do not believe in just hoping for something but doing it himself. During his election Duty, Verma found a leave application full of mistakes that began the long but crucial journey towards 'Pathshala'. Find him on YouTube, Instagram, LinkedIn and Twitter. In this blog, we will celebrate the inspiration that is Dev Kumar Verma. So, what you are waiting for? Let's jump right into it!
About Dev Kumar Verma
Born to a paan shopkeeper and a coal worker in the Katras village of Dhanbad district, Dev Kumar Verma collaborated with his father in the mines for hours. He and other kids of his age were subjected to foul environments, coal dust, silica dust, and harmful vapours. Later, when he grew up, he decided things and circumstances should be changed for the younger generations in his village.
Despite his situation, he was not ready to give up and performed exceptionally well in his school. He went to some of the prestigious institutes of India including NIT and IIM. At the peak of his career, when he could have used all the money he made to secure his future and lead a lavish life, he came across an event that changed his life and became a catalyst that would change the lives of many children for years to come.
How Pathshala Began
Dev joined BCCL in 2010 and had already been inspired from his childhood to do something in the field of education. After four years of being posted in Kolkata, Dev was posted to Dhanbad. This became the turning point of his life. He was appointed as the District Election in charge in the year 2014. He had to attend public schools that operated as training centres to recruit other employees. Coming across some class IX and X student applications in the schoolroom, he realized how full of grammatical errors they were. He was also troubled by the fact that the educators acknowledged the application forms without pointing out the errors. While any other person would have simply blamed the education system and got on with their life, Dev decided to do something about it.
"No one can make you 'Inferior' without your permission."
Attempting to take up that issue, his spouse, Priyanka Kumari, an IIT alumnus (ISM)-Dhanbad and BIT Assistant Professor Sindri, decided to write Jharkhand Chief Minister Raghubar Das and Neera Yadav, Minister of Education. Disheartened by the government's response and poor educational standards Verma and Kumari took the matter on their shoulders.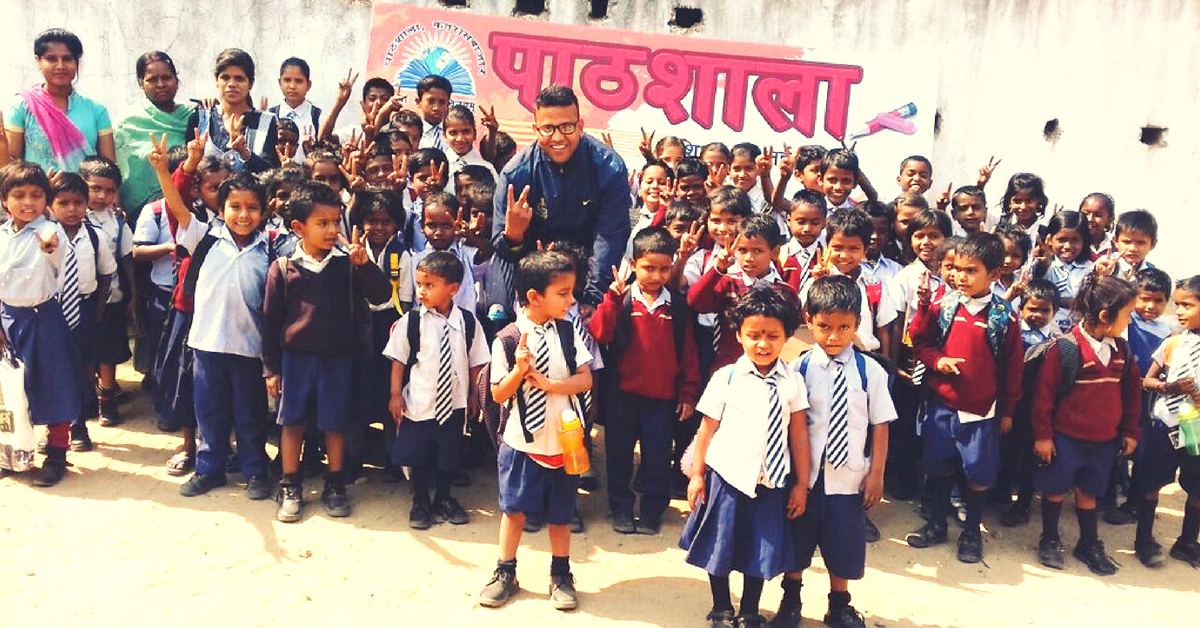 The couple decided to take the task into their hands and began working for it. Dev transformed his ancestral home into a free tuition facility for underprivileged children of his village. It started with 5 students and the first investment of INR 1000. As the number of students increased to 100, they decided to register the place. This is how 'Pathshala' was born in 2014. Overwhelmed by the results, they built another Pathshala only 4 kms away from their first school specially for children of coal-pickers. The third school was built after two years.
Over the next 5 years, the couple established three schools for more than 400 kids, 19 teachers and cleaning staff. Those who were mostly embroiled in coal harvesting and smuggling in the region are now receiving decent schooling up to Class VI.
Dev Kumar Verma says, "Just like Anand Kumar's Super 30, we are now preparing students for Super 50." He says that he wants the students to secure admission to the Sainik School and other similar educational institutions, providing them with free quality education and helping brighten their future. He further wants to expand the Pathshala in the coming years to help more students study in the upper classes. Dev Kumar Verma says his ultimate aim is to have a junior college (10+2) where these kids can get free education and attain good jobs to secure their future." Honour student of IIM-Lucknow and NIT-Durgapur, Dev Kumar Verma wants to spend his full income on infrastructure facilities of his school.
"When I joined the BCCL in 2010, I realized that whatever I am today is just because of my education. Hence, I always wanted to do something for my village."
And the Paathshala Grows!
All his school systems are now outfitted with projectors, computers, biometric enrollment, RO water filter, distinct washrooms for girls and boys, play areas, etc. All learners get books for free, stationery, uniforms, and transportation. To enable students to attend a class, he even decided to open savings accounts for each student in which Rs 100 is transferred every month for their expenditures. But on the affliction that they can't skip any lesson.
In recent times, people have encouraged the campaign with charitable contributions varying from Rs 100 to Rs 10,000. "I am a poor man who cannot afford a private school. One of the educators in Pathshala asked me to send my kids to school and that they could study there completely for free," says Vijay Kumar Bauri, a plumber whose son studies in Class III and his daughter in Class II. Dev Kumar Verma aims to build a high and even better school right now.
This was all about the ever generous and empathetic Dev Kumar Verma who has not just returned to society but is tirelessly working to make the world a better place for future generations. We at Leverage Edu bow our heads to such an exhilarating personality who inspires thousands of dreams. Stay tuned with us for more such enlivening inspirations! Follow us on Facebook, Instagram, LinkedIn and Quora.