We are surrounded by design. It influences how we use, engage with, and play with everything. From sophisticated user interfaces to polished games and applications, the Bachelor of Arts (BA) in Game Design can help you design captivating interactive systems. You'll study psychology, communications, and user experience in-depth, in addition to a comprehensive design curriculum.
| | |
| --- | --- |
| Course | BA Game Design |
| Duration | 3 years |
| Admission process | Merit/Entrance |
| Course Fees (annual) | 50,000 to 9,00,000 INR |
| Average Salary | INR 5 LPA |
Let the Gamer Inside You Kickstart a Career in Gaming!
Why Study BA in Game Design?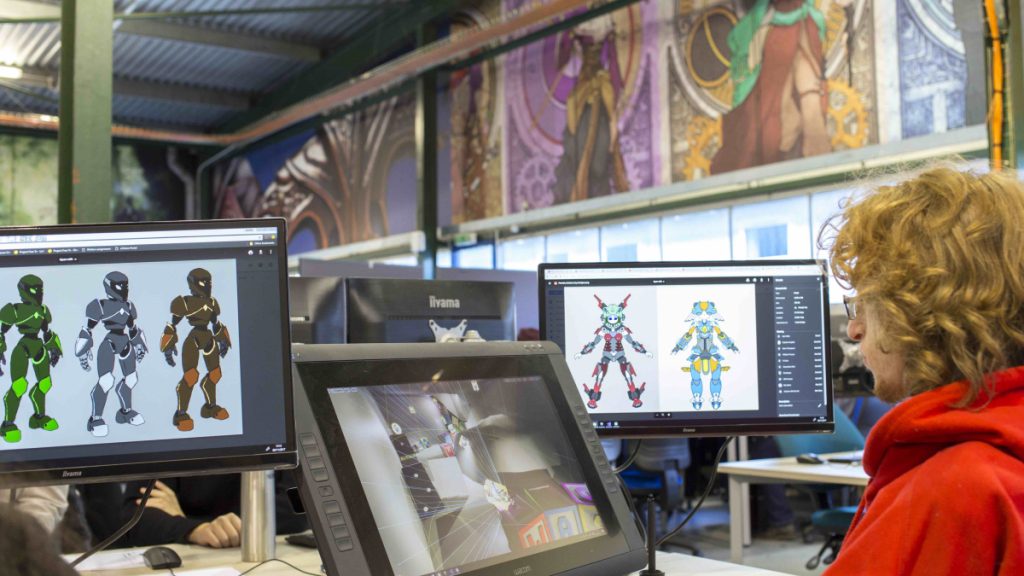 The BA in Game Design program is for students who are eager to master the skills and strategies for building enjoyable and engaging interactive systems and are passionately intrigued about the behavior and psychology behind games. Students spend a large amount of time experimenting, testing, and rapidly developing many different game ideas during the semester, all while learning a variety of topics. The BA in Game Design degree may be a good fit for you if you like the idea of continually putting yourself in the shoes of the player and expertly mixing the mechanical, spatial, and narrative aspects of the game experience.
Syllabus
The Game Design course curriculum involves not only a theoretical understanding of design but also actual implementation. The course covers the basics of game creation as well as crucial applications such as Photoshop and Flash. As the course progresses, the learning is advanced to a more complex level. The course includes subjects like:
3D Game Design
Hand-Held Devices
Game Interface Designing
Character Designing
Sound Design
Particles & Effects
Game Design Documents
Rigging & Animation for Games
FX For Games
UX Design
Topics
Game mechanics and history, design documentation, scripting and programming, 2D and 3D level design, character design, playtesting, interface design, product management, and team game project implementation are all covered by game design and development.
Writing, psychology, cinema, music, architecture, sketching, and 2D and 3D art are among the humanities and arts subjects that can be studied in depth. Fundamentals of scripting languages, mathematics, and physics are covered in these math and science courses.
Eligibility
When it comes to admitting students, different schools and universities have varied eligibility rules. It is vital to review the eligibility criteria before applying to any university. The eligibility criteria for both UG and PG degrees in game design are listed below.
To enroll in a game design undergraduate program, a student must have completed 10+2 in any subject (Arts, Commerce, or Science) from a recognized board. A candidate may be needed to take a common entrance examination in order to apply for university admission.
In addition to the eligibility criteria for top universities abroad are scores for SAT, ACT, IELTS and TOEFL are required.
Worried About IELTS? Take a Demo Class with Leverage Live Experts and Learn the Coolest Ways to Ace the Exam in One-Go!
Top Entrances for BA Game Design in India
LPUNEST by Lovely Professional University
IICD by Indian Institute of Crafts and Design
Top Colleges in India for BA Game Design
LPU, Jalandhar
NID, Ahmedabad
Tilak Maharashtra Vidyapeeth, Pune
Presidency University, Bangalore
Chitkara University, Chandigarh
Whistling Woods International, Mumbai
Jain University, Bangalore
Vels University
Whistling Woods International, Mumbai
Top Universities for BA Game Design in the World
| | | |
| --- | --- | --- |
| Universities | Course | Average Fees |
| University of Sussex | BSc Games and Multimedia Environment | INR 22,63,000/year |
| New York University | Game Design BFA | INR 45,00,000/year |
| University of Hull | BA Hons Game Design | INR 15,53,000/year |
| University of Chester | BSc Game Design | INR 10,00,000/year |
| Brighton University | Game Art and Design BA | INR 13,70,000/year |
| University of Technology Sydney | BS Game Development | INR 24,50,000/year |
Also Read: Masters in Game Development
Career Scope and Job Prospects
| | |
| --- | --- |
| Job Profiles | Average Salary |
| Game Designer/Game Engineer | INR 5 LPA |
| Game Programmer | INR 4.25 LPA |
| QA Game Tester | INR 6 LPA |
| Game Developer | INR 5 LPA |
| Game Simulator | INR 5.3 LPA |
| Creative Game Designer | INR 9 LPA |
Games have become an escape from the stressful days in today's fast-paced world. Games are enjoyed by people of all ages, not just the young. As a result, the gaming industry expands with each passing year. There is a vast range of games accessible for people of all ages and interests. As a result, the game design industry is growing. A person who makes a living as a game designer can earn a lot of money. A game designer's starting compensation ranges from INR 5,00,000 to INR 7,50,000 per year. However, with more experience and a higher level of competence, he or she can earn any amount.
Also Read: Best Options for Diploma in Game Designing
Top Recruiters
Infosys
99Games
TCS
OctaneTech
Red Apple Technologies
Blizzard Entertainment
Activision
Microsoft
Disney
Planning to study BA Game Design in the top universities? Call our Leverage Edu experts on 1800 572 000 and get started on your journey to working with leaders in gaming and visual design!