How often have you looked up to stare at the twinkling objects so far out of your reach and unveil the mysteries hidden in them? Since ancient times, human beings have been intrigued by the dense layers of night, and try to understand the sparkling specks, the stars, and other celestial objects infinitely dotting the sky. As time moved on and science progressed, humans tried to understand all that was contained in the universe and this resulted in the development of astronomy as an engrossing discipline. With the advent of astronomy, the mysterious cloak surrounding the universe gradually began to unravel. Today, astronomy is an established subject around the world considered as the oldest branches of Science, thousands of students every year apply to study all it has to offer. If you're one of those aspiring candidates and are looking for inspiration for careers in astronomy, this blog is for you. In this blog, we bring to you an extensive idea about all the information you need to know about a career in astronomy.
What is Astronomy?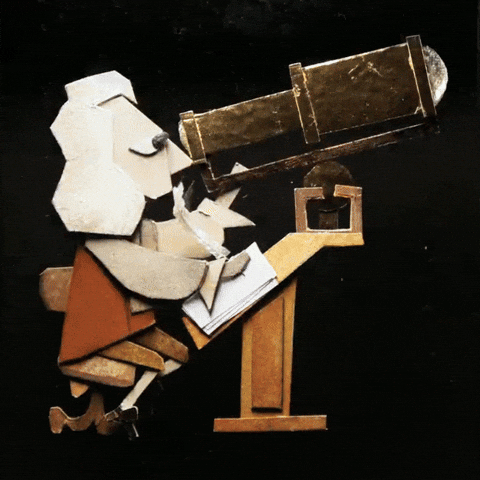 Astronomy is the study of all that is contained in this large universe, all the entities that lay outside the realm of the atmosphere. It fundamentally studies celestial objects we see every day, including Sun, Moon, the twinkling stars and other astronomical objects in space. The celestial bodies that are not visible with the bare eye and can only be seen with instruments like telescopes which are also an important part of different areas of astronomy. Astronomy is an indispensable science to create an understanding of the functioning of the various galaxies and how the planetary objects affect each other.
Popular Astronomy Careers
Astronomy is a fascinating discipline which in the contemporary world is one of the most important research branches of science. Being a field of such significance it guarantees a huge prospect of respectful job opportunities to the students. Pursuing a career in astronomy opens up an array of opportunities to choose from for its scholars. Here is a list of top astronomy careers to help prospective students have an idea of the vast opportunities available in the field.
Astronomer
Astrophysicist
Meteorologist
Planetarium director
Physicist
College professor
Senior technical writer
Solar and Stellar Astronomers
Planetary Astronomers
Laser Engineer
Metrology Engineer
Radio Astronomers
Opto-Mechanical Engineer
Imaging Systems Engineer
Solar and Stellar Astronomers
Photonics Applications Specialist
Engineer, Modeling & Simulation
Galactic and Extra-galactic
Research Scientist
EO/IR Systems Engineer
Cosmologists
Applications Engineer
Climatologist
Aeronautical Engineer
Astronomy Careers: Radio Astronomers
It is one of the most prominent astronomy careers. If you are enchanted by extraterrestrial entities, this can be your future choice. Radio astronomers are specialists who are well-versed in operating radio telescopes, which are big receivers used to pick up powerful radio waves. Job responsibilities of radio astronomers include the detection of radio discharges happening naturally in a galaxy, stars, and various other types of celestial bodies. They employ huge radio telescopes, intended to study very far-off located celestial matters. With innovations on the rise, radio astronomers are using various technologies to separate radio signals from unwanted noise.
Astronomy Careers: Solar and Stellar Astronomers
Although solar and stellar astronomers are allied with each other and work collaboratively, their responsibilities and job requirements are starkly different. Solar astronomers focus on learning more and more about the earth's sun, and their research forays are centred on understanding the whole composition of the sun, flares, solar eclipse and other kinds of related phenomena. Stellar astronomers, on the other hand, primarily focus their studies on the suns of different solar systems. Stellar astronomers also try to identify the composition of suns in other solar systems and draw conclusions from them.
Astronomy Careers: Cosmologists
Cosmologists are those astronomers who constantly deal with the theoretical aspects of the astronomical world. They are immersed in learning the genesis of the universe by its relentless examination, and also try to understand the whole process of evolution. They work on different theories and attempt to ascertain the possible dimensions of this huge universe and find the closest appropriation of the existence of the universe and its functioning. Cosmologists look at the big picture, investigate and try to predict the upcoming eventualities and simultaneously try to decipher the past. Cosmologists do not make their own theories rather albeit they base their work on the previously gathered data.
Meteorologist
One of the most frequently opted for astronomy careers is that of becoming a meteorologist. They examine the Earth's atmosphere to be able to anticipate future weather conditions and global climate. As students of astronomy, they master the skills to effectively apply various mathematical formulas to be able to produce their findings. The key responsibilities of a meteorologist involve collecting, analysing and consequently making an interpretation of the data collected through satellites and a whole array of instruments available. The purpose of their endeavours is to make their results available to governments, broadcasting agencies and thereby the citizens who need these findings as it affects various decisions.
[optin-monster-shortcode id="xf2mlnjiouddzrshykdb"]
Climatologist
Climatology is one of the major astronomy careers that is being increasingly chosen. One of the crucial responsibilities of a climatologist includes determining the weather conditions in different regions over an extended period of time. They provide solutions and also try to learn different reasons that have made an impact on weather patterns over several years. The study is usually based on a period of 3 decades to be accurate and reliable. They are required to take samples of soil from different areas to conduct their research. Subsequently, they analyse all their collected information to be presented in a research form that benefits society at large.
Education and Courses
To make your career in astronomy, students must first complete their 10+2 in science subjects and graduate in Astronomy. Here is a list of courses for students who wish to pursue their careers in astronomy.
BSc Astronomy
MSc in astronomy.
MSc in astrophysics.
MSc in meteorology.
PhD in astronomy.
PhD in astronomy and astrophysics.
PhD in astrophysics.
PhD in atmospheric science and astrophysics.
Top Recruiters
Being a highly selective career, students who have completed their studies in astronomy can find jobs in various science centres. Apart from the mentioned organizations, people can also pursue their careers as independent researchers or professors. Here are the top recruiters for astronomy in India.
Indian Institute of Astrophysics
National Space Science Center
The National Centre for Radio Astrophysics
Tata Institute of Fundamental Research (NCRA-TIFR), Pune
Salary
Astronomy is a highly paid profession with various job positions available. The salary varies depending on the experience and role. The average salary of an astronomer in India is around INR 11,00,000. Some astronomers also benefit from bonuses that go to an average of INR 50,813. Salary estimates based on salary survey data collected directly from employers and anonymous employees in India. In the initial years, an astronomer with 1-3 years of experience earns an average salary of INR 9,00,000. A senior-level astronomer with 8-10 years of experience can earn up to INR 15,11,734.
We hope this blog has provided all the important details regarding astronomy careers. Want to pursue an astronomy course in one of the top universities of the world? Unsure of what the future holds? Our experts at Leverage Edu will empower your educational journey. The experts will guide you through the processes of application and increase your chances of being selected in the university of your choice. Sign up your free 30 minutes of e-counselling with the team now and enthral the world with your astronomical findings!