When we talk about India's James Bond, there is no person more legendary than the one-man army himself, Mr. Ajit Doval. He is India's 5th and current National Security Advisor (NSA) to the Prime Minister, and before that, he served as the Director of the Intelligence Bureau in 2004–05, where he played a key role in the revocation of Jammu and Kashmir's special status. Doval is also a former Indian Police Service officer (IPS). Let's know more about our Desi James Bond, Ajit Doval through this blog.
Early Life of Ajit Doval
Doval was born on 20th January in 1945 in a village in Pauri Garhwal in a Garhwali Brahmin family in Uttarakhand. Doval's father, Major G. N. Doval, was an officer in the Indian Army.
He received his early education at the Ajmer Military School in Ajmer, Rajasthan. He graduated with a Master's degree in Economics from the Agra University in 1967.
He received an honorary doctorate for his contribution in the field of strategic and security matters, in Science and Literature from Agra University in December 2017 and Kumaun University in May 2018 respectively. Additionally, Ajit Doval also got an honorary doctorate degree in Philosophy (PhD) from Amity University, in November 2018.
The Rise of the James Bond of India
Ajit Doval started his career as an IPS officer. In 1968, he joined the Indian Police Service as the ASP of Kottayam district in Kerala. In Punjab, he was heavily involved in anti-insurgency operations.
Fondly known as the Indian James Bond, Ajit Doval has worked mostly as an active field Intelligence officer with the Intelligence Bureau (IB) in his career and won prestigious awards and honors for his bravery. He was highly esteemed for being actively part of important operations and taking a stand against terrorism and militancy. In 1999, Doval was one of three negotiators who secured the release of passengers aboard IC-814 in Kandahar. He is the only person who has been engaged at the end of all 15 hijackings of Indian Airlines planes from 1971 to 1999.
For more than a decade, he led the operations arm of the IB and was the founding Chairman of the Multi-Agency Centre (MAC) as well as the Joint Task Force on Intelligence (JTFI). Ajit Doval was also involved in gathering intelligence for Sikkim's unification with India. For a brief while, he was schooled in terrorist operations by M. K. Narayanan, India's third National Security Advisor. He was also part of the team dispatched to Kandahar to arrange the release of Indian Airlines IC-814 passengers. He was the Intelligence Bureau's Additional Director and Special Director. Later, he was named Director of the Intelligence Bureau.
Apart from that, Doval, the Indian James Bond, has also played a key role in gathering intelligence for 'Operation Blue Star' to choke Khalistani militancy in 1984. He was shifted to Kashmir in 1990 and convinced hardcore militants and troops to become counter-insurgents, which cleared the way for Jammu & Kashmir elections in 1996.
Serving the Nation Post Retirement
He became the founder-director of Vivekananda International Foundation right after his retirement in 2009. Doval also headed a successful military operation in Myanmar against the National Socialist Council of Nagaland militants operating there. Also, in 2009 and 2011, he co-wrote two papers with colleagues on "Indian Black Money Abroad in Secret Banks and Tax Havens," leading in the area as a member of the government of India's task group.
He actively supervised the September 2016 India's Surgical Strike and February 2019 Balakot airstrikes across the Pakistan Border. He was also responsible for putting an end to the Doklam stand-off and took crucial steps in tackling the insurgency in the Northeast.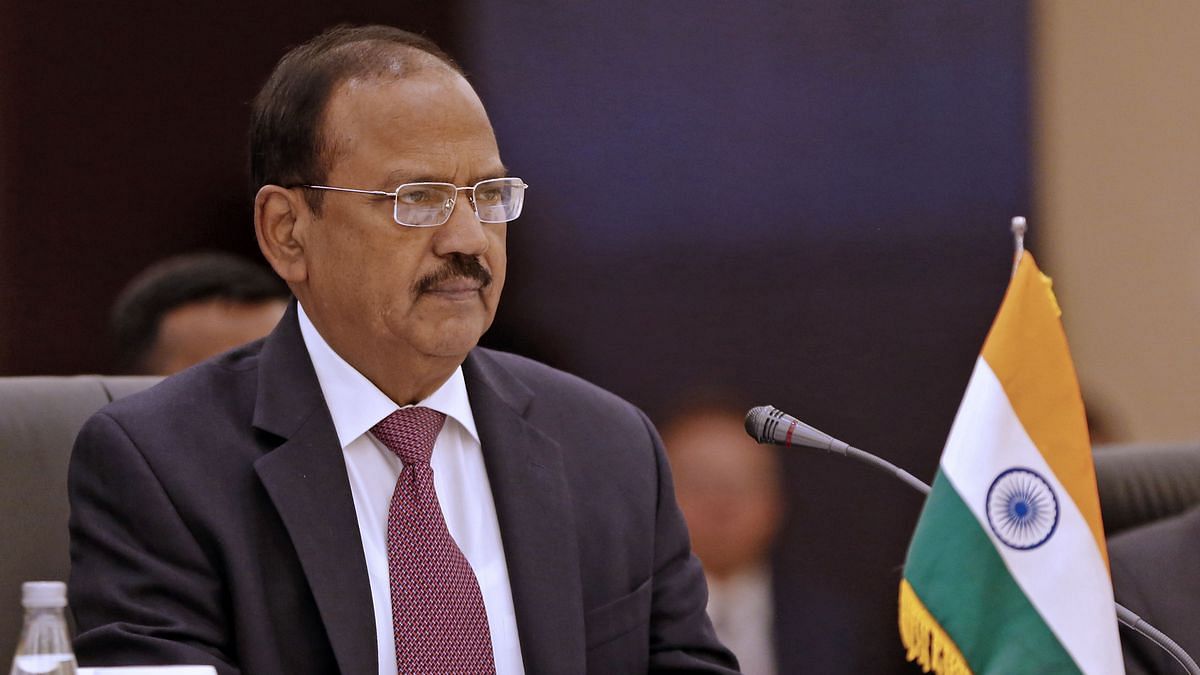 In 2019, Doval was reappointed as National Security Advisor for five more years and given a Cabinet rank in the second term of the Narendra Modi-led National Democratic Alliance (NDA) government.
In recent years, he has given guest lectures on strategic problems at the University of Melbourne in Australia, at the International Institute for Strategic Studies in UK, the National Defence College in New Delhi, and the Lal Bahadur Shastri National Academy of Administration in Mussoorie. Doval has also spoken at international gatherings, stressing the growing necessity for cooperation between the world's main established and developing nations.
Awards and Recognition
Doval was the youngest police officer to receive the Police Medal for meritorious service. He was given the award after six years in the police force.
Doval was later awarded the President's Police Medal.
In 1988, Doval was granted one of the highest gallantry awards, the Kirti Chakra, becoming the first police officer to receive a medal previously given only as a military honour.
Ajit Doval is truly the one and only James Bond of our country. With such love for his country, Ajit Doval is rightly named the One Man Army of India! For more such exciting and educational reads, make sure to connect with Leverage Edu on Instagram, Facebook, YouTube, and LinkedIn.