Success comes to those who have patience and perseverance. There is no shortcut to achieving your goals, but there are certain ways that can help you build a promising career. MBA is amongst the most sought-after and globally recognized programs that strive to develop an individual's business acumen and augment one's career skills. The Graduate Management Admission Test (GMAT) is a global level exam that opens the doors to the top MBA colleges in the world! If you are someone aspiring to pursue an MBA abroad and want to understand the admission process as well as tips and tricks to ace the GMAT, then, here's a blog that will cover all the details about it comprehensively!
Exam Name
GMAT
Full-Form
Graduate Management Admission Test
Official Website
https://www.mba.com
Popular For
MBA courses abroad
Conducted by
GMAC (Graduate Management Admission Council)
Test Duration
3 hours 7 minutes
Mode of Exam
Computer-based adaptive test
GMAT fee
US $250 (INR 18,565 approx.)
Score Range
Min=200
Max=800
Why is GMAT Important?
The management aptitude test aspirants often ask questions like, "what is the importance of the test?" or " How can the GMAT help in my career growth?". The importance of the aptitude test is not just limited to the MBA admission process but can also help you prepare for the future! Enlisted are the major reasons why one should take the management test:
The GMAT test is accepted for over 7,000 programmes at about 2,300 graduate business and management schools worldwide.
It examines your analytical reasoning and critical thinking which constitutes an important part of the skill sets to pursue an MBA.
The score obtained in the test can help you study MBA from some of the top management schools thus increasing your job opportunities.
Nationality
All Nationalities Accepted
Age Limit
18 Years
Candidates belonging to the 13-17 age group require written proof of their guardian's consent before taking the GMAT exam.
No upper age limit has been prescribed
Academic Qualification
Bachelor's Degree
Number of Attempts
5 times in a calendar year and up to 8 times in a lifetime
Retaking the GMAT exam
16 Days (Minimum)
GMAT 2022 Exam Pattern
The management aptitude test is a three-and-a-half-hour long exam with each section designed to test a set of specific skills. Given below is the GMAT paper pattern along with the question-type division:
In April 2018, the GMAC made some changes in the exam pattern and sections. The total number of questions was reduced under the quantitative and verbal sections of the GMAT. The changes were minimal and did not affect the structure at large. Here's what you need to know about the latest modifications done in the exam structure: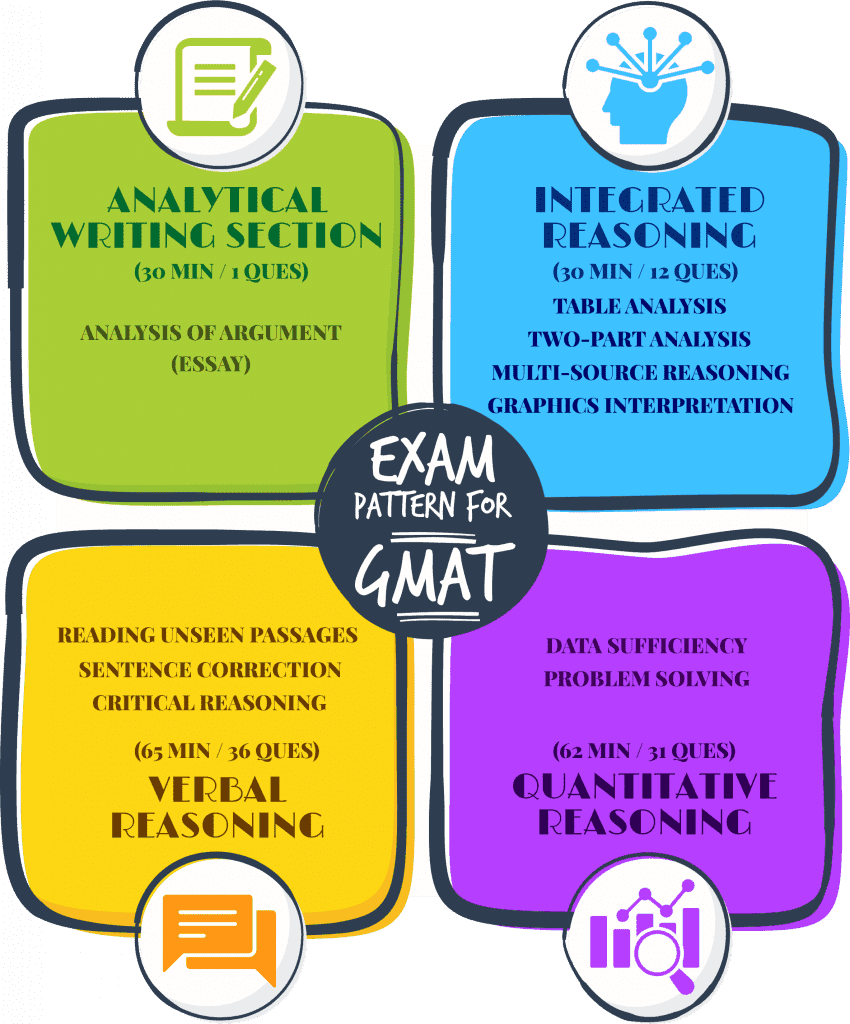 Before April 2018
| | | |
| --- | --- | --- |
| Section | Number of Questions | Time |
| Quantitative | 37 | 75 minutes |
| Verbal | 41 | 75 minutes |
After April 2018
| | | |
| --- | --- | --- |
| Section | Number of Questions | Time |
| Quantitative | 31 | 62 minutes |
| Verbal | 36 | 65 minutes |
Click Here for A Free Consultation Session!
GMAT has no fixed or official dates. The exam is conducted multiple times in a year allowing candidates to select suitable dates at their convenience. One needs to keep a gap of 16 days in between if planning to retake the exam. In a year, aspirants can only sit for this exam 5 times in a row. The registration process must be initiated 2-3 months before the exam.
Applicants are provided with the flexibility to apply for the GMAT exam via both online and offline [phone/mail] modes. While for registering through call, candidates will be required to spend an additional $10, for application sent through the mail, cheque, or money order is accepted. Here is a step by step guide on how to register for the coveted exam:
Visit the official website and click on register
Add all the relevant information in the form
Schedule your test and submit the fee
Collate the list of schools you want to share your scorecard with
Review your details
On completion, log in to your account and select your test date and center
GMAT Confirmation Letter
Like other competitive exams have admit cards, the GMAT exam has a confirmation letter, received by candidates after the completion of the registration process. It includes the Name of the Candidate, Exam Date, Exam Centre, and Time of the examination. It is advised to take a copy of this letter on the test day along with a valid ID proof like your Aadhaar Card.
Exam Fees
All the applicants, irrespective of the country they are applying from have to pay $250 [INR 18,565 approx] as the GMAT registration fee. We have given a rundown on the rescheduling costs and the charges incurred on cancellation as per the new structure which is in effect from 2019:
| | | |
| --- | --- | --- |
| Timeline | Cancellation Charges | Rescheduling Fees |
| 1-14 days before the exam | US $50 will be refunded | The US $150 |
| 15-60 days before the exam | US $75 will get refunded | The US $100 |
| >60 days before the exam date | US $100 Refund | The US $50 |
Note: No show policy still exists and thus, no refund will be generated or the requests to cancel or reschedule the dates will not be accepted.
GMAT is conducted all over India across various exam centers. Candidates get a chance to choose the desired center as per their location. While registering for the exam and selecting the exam date, candidates get to choose the best-suited GMAT test center.
There can be various reasons to reschedule the exam date. Although, there are certain provisions under which you can reschedule the GMAT exam and even cancel before its actual date but you need to follow certain rules for the same. Listed below are the guidelines one should be aware of:
As seen in the above-mentioned table, for rescheduling the exam, candidates are required to submit a rescheduling fee. This includes charges for the changes in the time slot, date, and location of the exam.
If a candidate has not been able to reschedule the exam and is late, then no refund is initiated for the rescheduling.
The rescheduling process is done through the online portal or via phone call. If the candidate needs to reschedule the location of the GMAT exam, it needs to be done through a phone call. The fee for rescheduling to another location is $10 (Rs. 745 approximately).
This computer-based test, that measures an applicant's ability on various parameters has four sections. The GMAT syllabus of these parts have been given a rundown below:
Pattern
Sections
Total Questions
Time
Score
Analytical Writing
This section is designed to test the candidate's written communication skills as well as critical thinking through argument analysis. The syllabus for analytical writing can range from business-related topics to general awareness
1
30 minutes
0-6 [0.5 mark increments]
Integrated Reasoning
1. Graphics Interpretation
2. Two-part analysis
3. Table analysis
4. Multi-Source Reasoning
12
30 minutes
1-8 [1 point increments]
Quantitative Reasoning
1. Problem Solving
2. Data Sufficiency
31
62 minutes
6-51 [1 point increments]
Verbal Reasoning
1. Critical Reasoning
2. Reading Comprehension
3. Sentence Correction
36
65 minutes
6-51[1 point increments]
Analytical Writing Assessment
This section of the GMAT exam is designed to test your ability to analyze different arguments. You are required to examine and explain the reason behind an argument and describe a critique for the same, Use a methodological approach to explain your answer. While explaining your answer with various examples, be sure of the grammar usage.
Integrated Reasoning
The reason why this section is incorporated in the GMAT exam is to test your analytical skills which you can use to solve complicated problems. It consists of 4 types of questions namely Table Analysis [answers in the form of yes/no], Graphics Interpretation, Multi-Source Reasoning [True or false, yes/no or multiple-choice options are how you can answer the questions], and Two-part Analysis.
Quantitative Section
The third section of the GMAT comprises various arithmetic questions to test your mathematical abilities. The questions, which are asked in the form of multiple-choice questions are bifurcated into two categories:
Data Sufficiency Questions: This section measures your ability to systematically arrange different data. The questions are provided with certain statements and five multiple-choice answers, the answer choices always remain the same. This section needs strong quantitative knowledge combined with analytical skills.
Problem Solving Questions: The probability questions asked are aimed at testing your analytical skills. This is one of the most difficult parts of the GMAT as the questions are tricky and puzzling.
Here is a list of all the quant topics that can be expected in a GMAT exam:
Monomials, polynomials
Algebraic expressions and equations
Functions
Exponents
Arithmetic and geometric progression
Quadratic equations
Inequalities and basic statistics
Lines and angles
Triangles
Quadrilaterals
Circles
Rectangular solids and cylinders
Number properties
Multiples and factors
Fractions
Decimals
Percentages
Averages
Powers and roots
Coordinate geometry
Profit and loss
Simple and compound interest
Speed, time, and distance
Pipes, cisterns, and work time
Ratio and proportion
Mixtures and alligations
Descriptive statistics
Set theory
Probability
Permutation and combination
Verbal Reasoning
This section of the GMAT is the longest and consists of 36 questions. The primary objective is to test your ability to read, write and construct coherent sentences. The sub-sections are namely Reading Comprehension [a passage and multiple-choice questions on the same are given], Critical Reasoning [contains arguments with five answer choices. You have to identify the key points that strengthen your argument, analyze the argument logically and choose the correct option], and Sentence Correction [sentences will be underlined with five answer choices and you will be required to analyze and select the right one]
Make sure that the answer is grammatically correct. Read our blog on sentence correction rules to score well in this part.
Want to ace the quantitative section? Then you can go through the following blogs to get a better picture:
The GMAT scorecard comprises a fixed scale that appears on the Official Score Report. Useful for both candidates as well as their chosen institute, here are the 4 sections of the exam and their prospective GMAT scores:
| | | |
| --- | --- | --- |
| Section | Score Range | How is it Done? |
| Analytical Writing | 0-0.6 | Essays are first scored independently twice and then an average is calculated. |
| Integrated Reasoning | 1-8 | Since some questions carry multiple parts, one needs to answer all the questions. |
| Verbal and Quantitative | 6-51 | Depending on the number of questions attempted, the number of correct answers, and the difficulty level, the final score is calculated. |
| Total | | 200-800 |
The scores were obtained to assist the admission committee by providing them with an insight into the candidate's proficiency in varied aspects. The aggregate GMAT score is the total of your quantitative and verbal scaled scores. Also, it should be noted that the number of questions, as well as the difficulty level of these sections, can also impact your GMAT score.
Examine the average GMAT scores for all test takers throughout the three-year period 2017–2019:
| | |
| --- | --- |
| Section | Average GMAT Score |
| Verbal | 27.11 |
| Quantitative | 40.38 |
| Integrated Reasoning | 4.51 |
| Analytical Writing Assessment | 4.45 |
| TOTAL SCORE | 564.84 |
Source: GMAC
Score Validity
The GMAT score is valid for up to 5 years from the exact date that the exam was taken. For example, if you took the GMAT in April 2019, your score will be valid until April 2024. GMAT score validity helps you in various ways. For example, if you, for some reason, couldn't complete the admission process then, you can use the score you secured five years ago and pursue an MBA from your dream university!
If you are wondering about how to get into Harvard Business School or other coveted institutes abroad, then, here are the average GMAT scores of some of the world's leading Business Schools:
| | | | | |
| --- | --- | --- | --- | --- |
| MBA Programs | 2019 Score | 2018 Score | 2017 Score | 2016 Score |
| Harvard Business School | 730 | 729 | 729 | 729 |
| MIT Sloan School of Management | 727 | 728 | 722 | 724 |
| Columbia Business School | 727 | 732 | 724 | 720 |
| Yale School of Management | 720 | 724 | 727 | 725 |
| Cornell (Johnson) | 696 | 699 | 700 | 700 |
| UCLA (Anderson) | 719 | 719 | 716 | 715 |
Average GMAT scores in MBA in the USA
Following are the business schools of the USA with their average GMAT score:
| | |
| --- | --- |
| Business School | Average GMAT Score 2021 |
| Stanford (GSB) | 733 |
| Wharton (UPenn) | 732 |
| Chicago Booth | 726 |
| Harvard Business School | 725 |
| Kellog (Northwestern) | 724 |
| Yale SOM | 721 |
| New York Stern | 720 |
| Tuck (Dartmouth) | 717 |
| Columbia University | 715 |
| UCLA Anderson | 713 |
Average GMAT scores in MBA in the UK
Following are the B-schools of the UK with their average GMAT score:
| | |
| --- | --- |
| Business School | Average GMAT Score 2021 |
| University of Cambridge | 680 |
| Cranfield University | 664 |
| Warwick | 658 |
| Imperial College Business School | 638 |
| City University: Cass | 635 |
| Manchester Business School | 630 |
| University of Bath | 610 |
| Lancaster University Management School | 601 |
Average GMAT scores in MBA in Europe
Find out below the business schools in Europe with their average GMAT score:
| | |
| --- | --- |
| Business School | Average GMAT Score 2021 |
| INSEAD, France | 703 |
| HEC – Paris, France | 682 |
| IMD, Switzerland | 672 |
| IE Business School, Spain | 672 |
| Mannheim Business School, Germany | 671 |
| IESE Business School – Navarra, Spain | 669 |
| SDA Bocconi, Italy | 665 |
| ESADE, Spain | 660 |
| University of St.Gallen, Switzerland | 665 |
| European School of Management, Germany | 645 |
Average GMAT scores in MBA in Canada
Below is the tabulated information of the business schools in Canada with their accepted GMAT score:
| | |
| --- | --- |
| Business School | Average GMAT Score 2021 |
| University of Toronto (Rotman) | 672 |
| McGill University – Desautels | 655 |
| University of Western Ontario (Ivey) | 655 |
| Queen's University | 650 |
| University of British Columbia (Sauder) | 646 |
| University of Alberta | 623 |
GMAT Practice Tests
Note: These are average scores and may vary.
Comparing these scores will give you an overview of how to improve your performance.
GMAT is an international-level entrance exam that one needs to qualify to apply for Business and Management courses like MBA in top-ranked B-schools. Various aspects come into the picture when we talk about GMAT vs GRE and this has been elucidated in the points given below:
GMAT
GRE
Duration
3 hours, 7 minutes
3 hours, 45 minutes
Admission
For admission into Business Schools
Wide variety of graduate school programs
Which business schools accept these tests
More than 7000 programs at 2300 business schools
Fewer business schools
Test fee
$250
$205
Number of sections
4
6
Quantitative Section
1 section – 31 questions – 62 minutes

6 – 51 (scaled score)

20 questions each in 2 sections – 70 minutes

Score Range of 130 – 170

Verbal Section
1 section – 36 questions – 65 minutes

6 – 51 (scaled score)

20 questions each in 2 sections – 60 minutes

Score Range of 130 – 170

AWA section
1 essay – 30 minutes

Score Range of 0 – 6

2 essays – 60 minutes

Score Range of 0 – 6

IR section
12 questions – 30 minutes

Score Range of 1 – 8

NA
Questions
Once answered, the candidate cannot return to the question
Can return to a question in a section
Test Score Range
200 – 800 (in 10-point increment)
260 – 340 ( in 1-point increment)
The only trick to ace your GMAT is to strengthen your conceptual knowledge. Enlisted are a few general tips that could help you prepare for the GMAT exam better:
Practice on a Computer: The exam is purely computer-based and runs for a duration of 3-hours. There are some people who can not pull the mental fatigue of sitting in front of a computer for a long time. Make sure you are prepared for it and the best way for this is to practice as many sample papers as you can, on a regular basis.
Track your Time: Every section on the GMAT comes with a specific time duration and you need to answer every question in the stipulated time. Start this exercise of tracking your speed with a timer when you practice for the exam.
Feed the Brain: Having good memory aids in solving questions effectively. Start by solving sample papers, mark your incorrect questions and redo them until they're perfect. Talk to those who have already taken the exam. You can even solve scores of questions or clear your concepts of difficult topics from some of the best books for GMAT!
Find your Forte: It's impossible to be perfect at everything. There will be some sections of the GMAT exam which will take you longer to learn. But there will be some which won't take you long to ace. Thus, gauge through your strengths and weaknesses and prepare accordingly!
Keep an Eye for Mistakes: Make a habit of identifying and working on your mistakes. If you get stuck on a question, eliminate the process of guessing and answering incorrectly. Take your time and fill the answer which completes the sentence!
If you're looking for some more help on how to prepare for the exam, here is an article that might help you with the grammar section: 50 Difficult Words (with Meanings).
An average student is likely to take 6 months to fetch a good GMAT score. But, if you plan then you can get through the exam in just 3 months. All you need to do is follow the correct study plan for the same. Regular practice, revision of old topics with a combination of new ones, mock tests, etc are some factors that can help you crack GMAT in 3 months!
Online GMAT Exam Overview
The GMAT online exam is a remote proctored version of the test center-based GMAT exam designed to help you meet the goals of your application – from the comfort of your home. You have the option to take the GMAT exam online or a test center or both. Tap and read more about this!
GMAT Exam Status During COVID-19
Updated June 29, 2022
Most of the global testing centers are currently open, many operating at lower capacity to support social distancing requirements. Open test centers have deployed enhanced health and safety measures including enhanced cleaning procedures, available hand sanitizers, and face masks may be required. The registration for GMAT online exam and executive assessment is also open.
FAQs
What is the average GMAT Score for different B-Schools in the USA? 
Depending on the course and the university, the average GMAT scores can vary across countries. In recent years, it has been observed that the average score around the world is around 551.94. However, this score is applicable for anyone attempting the GMAT exam, including those who do not go ahead and apply for an institution. Here is a list of some of the average scores accepted by the B-Schools in the USA: 
Business School
Wharton School of Business, University of Pennsylvania– 732
Kellogg School of Management, Northwestern University – 724
Yale School of Management-721
NYU Stern School of Business- 720
Is there any way to predict your actual GMAT score? 
Predicting the actual GMAT score is no easy feat. However, you can take the free tests offered by the GMAC or the practice materials available online as well as offline to gauge your performance. Since variation in practice test scores are normal and expected, It is advised that the practice tests should only be a part of simulating the test and not predict one's GMAT score. 
How long does it take to prepare for GMAT?
The GMAT preparation demands a serious commitment from the candidates and can span over two to three months or even more. Formulate a study schedule based on your strengths and weaknesses and then allocate specific hours for each section.
However, the study schedule and the hours devoted to GMAT preparation depend on the individual's capacity. For instance, an average of 120 hours of studying divided into ten weeks of studying will give you approximately 12 hours a week and will include tutoring sessions as well as class sessions. It is advisable to spread these hours evenly and start your preparation at the earliest. 
How many times can you give the GMAT exam? 
For those who couldn't crack this exam on the first attempt, the best part is that a candidate can retake the exam up to 5 times in a year. To reappear for the exam, candidates have to submit a written request to the GMAC. Candidates have to keep in mind that they have to wait for a minimum of 16 days before reappearing for the test.
What is the average GMAT Score for different B-Schools in Europe?
As per a GMAC report, the mean GMAT score has risen 6 points since 2016. Keeping this data in mind, let us have a look at some of the European B-Schools and the average GMAT score required by them:
| | | |
| --- | --- | --- |
| Business Schools | Average 2018 GMAT Score | Average 2017 GMAT Score |
| London Business School | 707 | 708 |
| INSEAD | 711 | 712 |
| Cambridge Judge Business School | 693 | 695 |
| IESE Business School | 686 | 690 |
| HEC Paris | 691 | 691 |
GMAT is a prestigious and crucial exam that can help you enter the corporate industry. We hope that this extensive article on the same has helped in clearing some of your confusion related to the preparation for the exam. If you're planning to appear for the aptitude test and need further assistance, Leverage Edu's experts can guide you on how to strategize better so that you can ace the test and soar towards your dream college!